Testimonials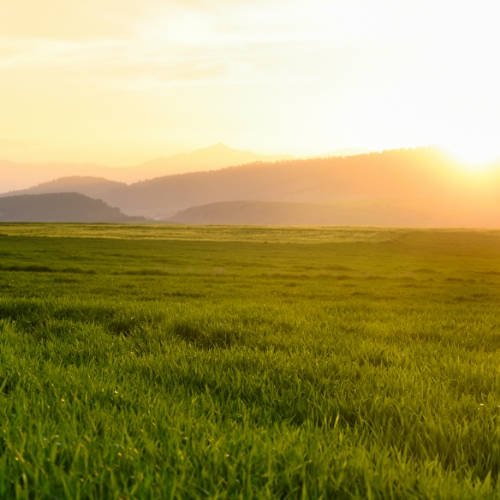 December 28th-30th, 2022
"PermaVista Ranch is just excellent in every way! It is a top notch, well operated, well maintained guest ranch…beautiful spaces inside and out…beautiful views of the rolling hills…well planned for privacy for every rental space. There is an ambiance of peace and calm, yet so many activities in which to participate in! Our family enjoyed the horseback riding from our youngest grand, the teens, the early twenties and the parents! When the rain arrived, there is shuffle board, pool, a giant TV and bar in the game room. No one was left out of the fun. The food was fabulous and the staff lovely. This is truly the Perfect Place!"
Terri Huddlestone
---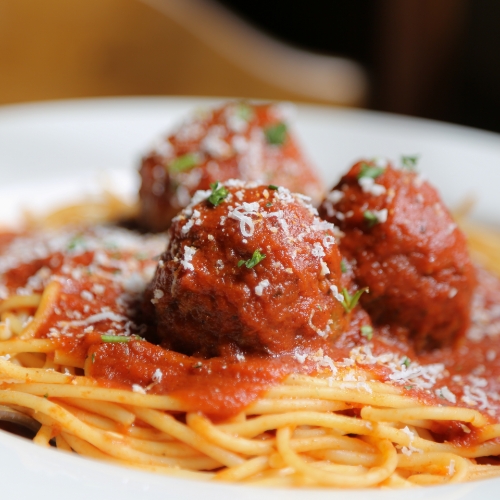 December 11th-14th, 2022
"We had a small staff retreat there and it was a perfect fit! Having breakfast included was a wonderful blessing and the food was tremendous. There was plenty of space for us to spread out but also have times of meeting together. The host was quick to respond whenever we had questions or needs!"
Jonathan H.
---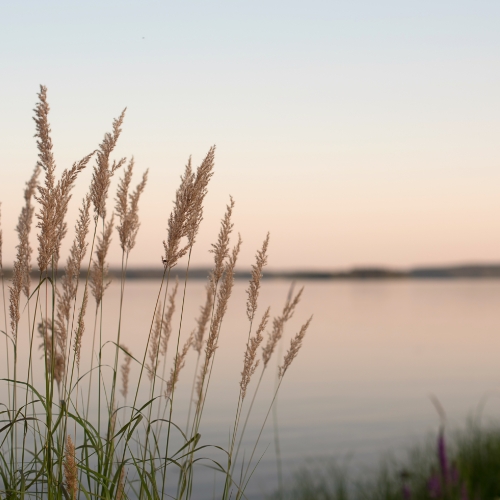 November 20th -23rd,2022
"Awesome place We loved it"
Mirnes R.
---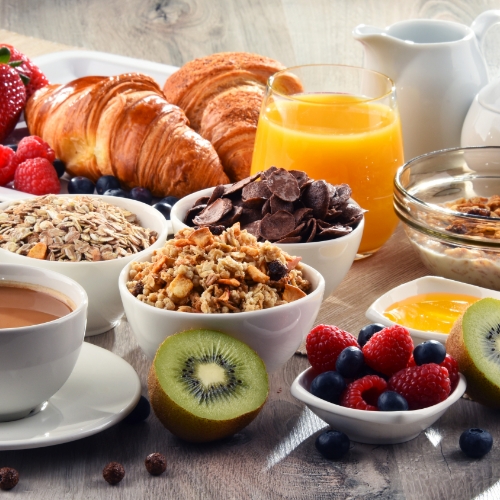 Nov 11th-13th ,2022
"Awesome property for our group of 8 ladies. We thoroughly enjoyed the party house & views! Breakfast was varied & plentiful. Loved the fresh squeezed oj & home made green & red salsas! (Wish we could order extra of both salsas to take home!!) We walked to the pond & horse barn. Ruth was very responsive via text & our tour guide answered all our questions upon arrival. The chef + staff were ever so accommodating -- helping with fireplace & serving dinner an hour later because we were having too much fun playing tennis!"
Jana B.
---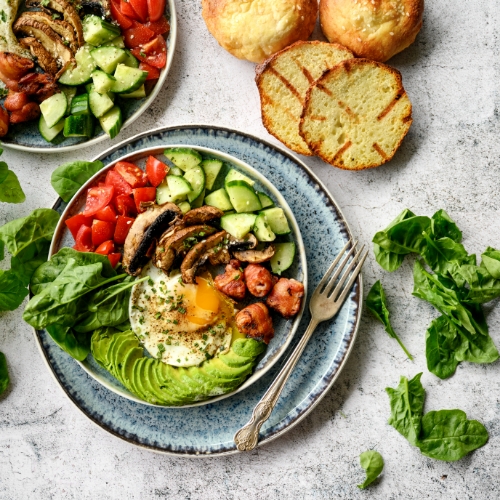 October 27th- 30th, 2022
The ranch was beautiful, bedrooms were spacious. We utilized the Chef's services and were not disappointed. The staff stayed in contact with us throughout the entire process to ensure all dietary needs were met and that all our questions were answered. I highly recommend this venue for a weekend stay or an event. Beautiful!
Sabrina M.
---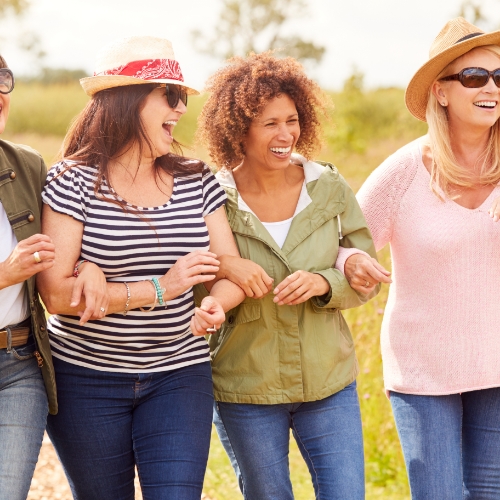 October 24th-26th, 2022
Visited on a working trip to shop Round Top. Such a comfortable and quiet place to return to. The chefs were amazing and the whole staff was wonderful and kind. Easy to communicate with the host. The country setting was incredible. Would return!"
Whitney
---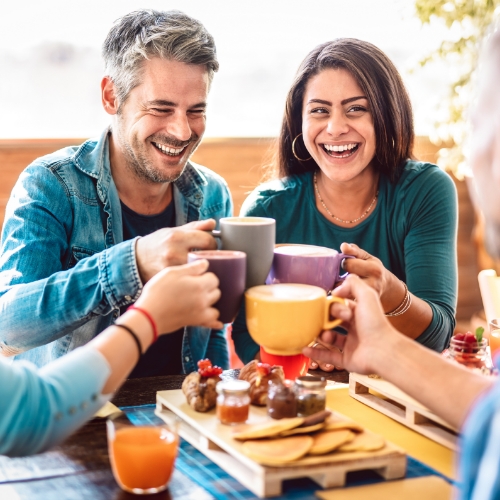 October 4th-6th, 2022
We had a wonderful time and highly recommend PermaVista. The accommodations, food, staff, setting......all were perfect!"
Kristin L.
---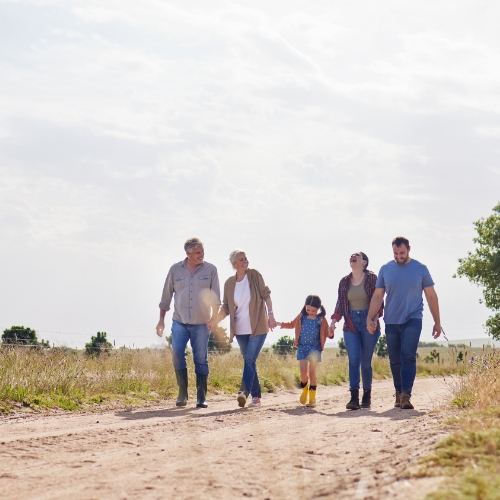 September 13th-16th, 2022
"Wonderful! Thank you! We had a great trip."
Jessica M.
---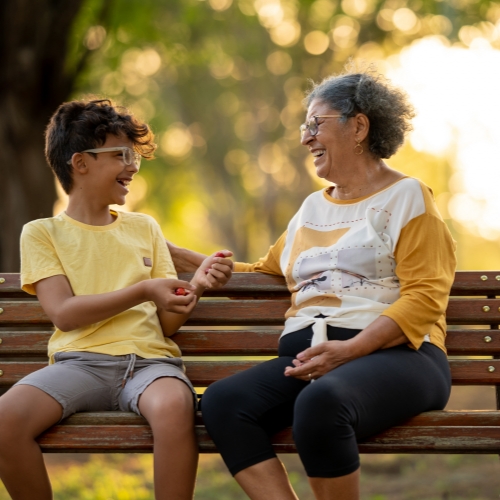 August 19th-21st, 2022
"My family had an amazing time for our annual family retreat! The staff was very courteous and helpful with any questions/concerns. Looking forward to booking for our next retreat."
Claudette London
---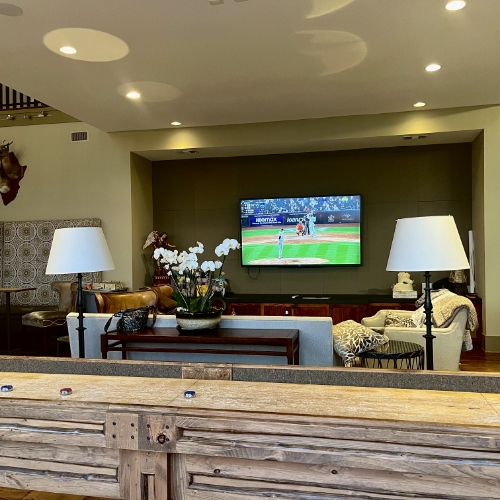 July 23rd – 30th, 2022
"The property worked for all of us, from the 2 year olds to the 80 year olds. Breakfast was wonderful, not only the food but the chance to gather at the beginning of the day. We ended the day in the party room. Perfect"
Nancy B.
---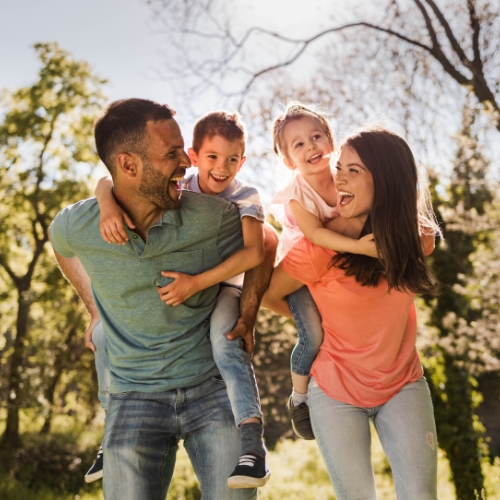 July 20th – 23rd, 2022
"Our group of 6 couples plus kids had a great time - home exceeded all expectations. Room to spread out on the property, plenty to keep the kids busy, and breakfast every morning was fantastic. Definitely recommend hiring the chef for dinner one night, that turned out to be a highlight!"
James P.
---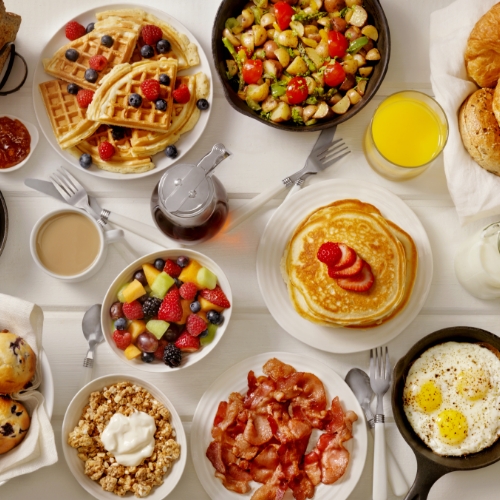 July 15th-18th,2022
" We had a great time. The property was the perfect size for our group of 15. We were very comfortable. Had fun in the pool and in the party house game room. Breakfast was the BEST ever! Would definitely go again and recommend it!"
Wanda S.
---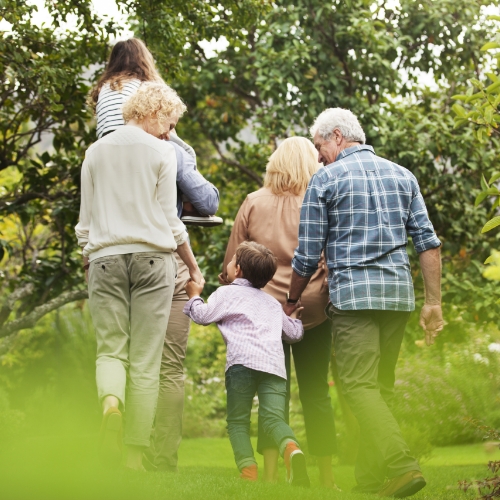 July 2nd-5th, 2022
We had a fabulous family reunion.
Laura Cox
---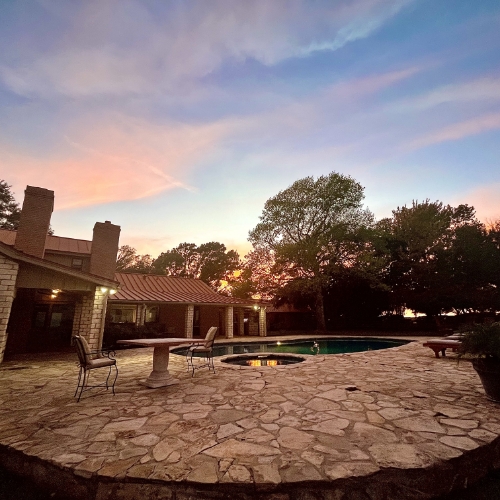 June 27th-30th,2022
This place was sooo amazing. Plenty of room for everyone. Kids & adults loved the horseback riding. Pool time was certainly enjoyed each day. The big delicious breakfast prepared each morning was such a treat as we were all able to sit down together at the same time to eat & spend some quality family time around the table. We had 4 generations in attendance & lots of special memories made this year. Thanks for everything.
Kelly W.
---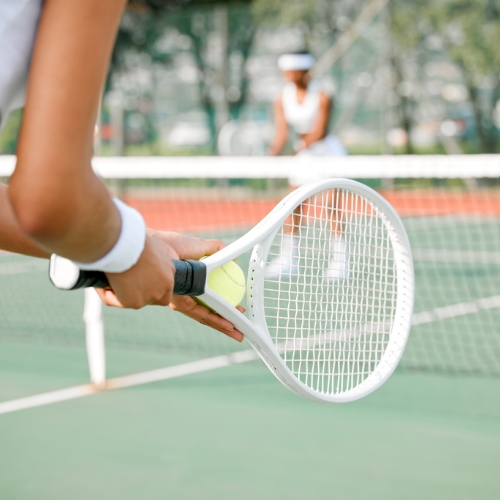 June 21st – 26th ,2022
"We had a great family reunion/vacation. We all enjoyed the pool, tennis court, shuffleboard and party room. We especially loved the amazing gourmet breakfast provided every morning. Just wish the dining room was a little bigger to hold all 22 of us comfortably."
Traci M.
---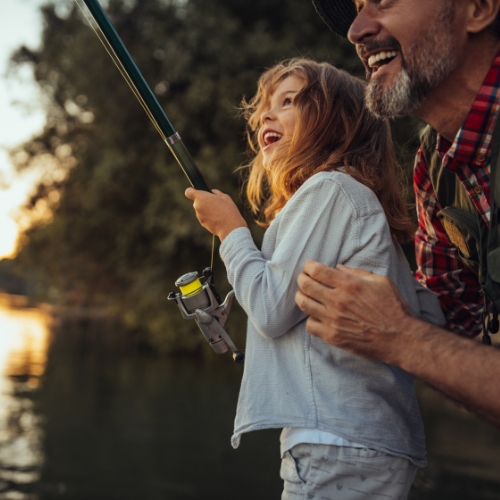 June 15th-19th,2022
' This property was perfect for my group of 22 people from infants to 60+. The available activities right on property were plenty to keep all engaged, having fun and laughing. I'd list a couple but that wouldn't be fair to the others. My family was there for a reunion and I believe we experienced the best we could've ever hoped for. The chefs were marvelous, the food was spot on they kept the kitchen and dining room clean as well presented the meals beautifully. We never ran out of food for any breakfast and we had them prepare one dinner for us. They did a great job all four days we were there. The property manager was incredibly responsive for all of our needs, no matter how small. She ensured that we had everything we paid for and was promised. The horse trainer that took my group out for rides was great as well. She was very patient and friendly and great with the young children as well as the older 'kids' that wanted to go faster with the horses. The property was so perfect for my reunion that I've already reserved the it for my next one next year! I haven't stayed at any other VRBOs before this one so I don't have anything to compare it to. But it's hard for me to imagine they come much better than this one. I would recommend to anybody that's considering it.''
Cliff H.
---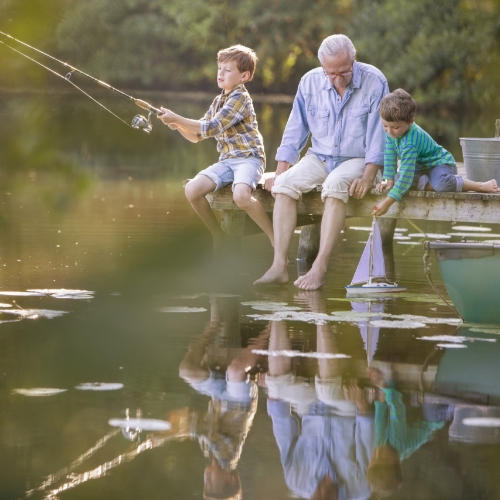 June 10th-13th, 2022
Our group was made up of seven adults and five kids (all aged 7 or younger). The set up at the ranch is ideal for multiple families staying at the same time. We were able to keep parents and kids close together in terms of rooms. There was a lot to do. We spent time horse riding, fishing, playing tennis and soccer as well as making good use of the pool. The team at the ranch did an exceptional job of making us feel welcome, answering our questions and the food was excellent. Definitely would recommend PermaVista as a great location for a vacation or mini break."
Douglas M.
---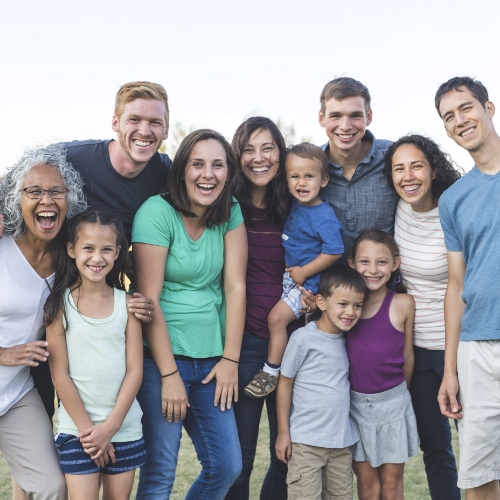 June 5th-9th,2022
"The property is spectacular. Our family reunion could not have been better. The chef and his team are the best. From the youngest to the oldest, we had an amazing time."
R Parker.
---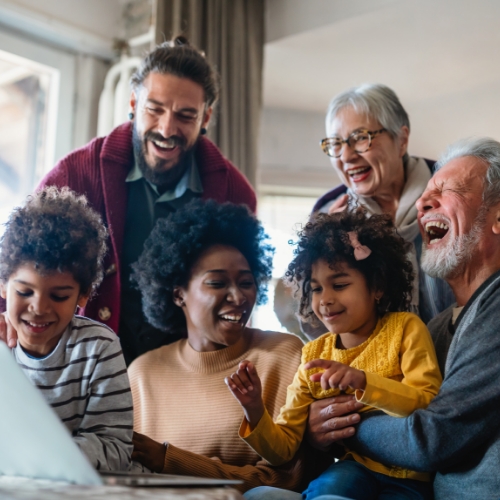 June 2nd-5th,2022
We had 19 people celebrating a 60th wedding anniversary. PermaVista Ranch was amazing. The property was spacious and well maintained. The staff was very friendly and very helpful. We had a great weekend and would recommend PermaVista to everyone."
Susan P.
---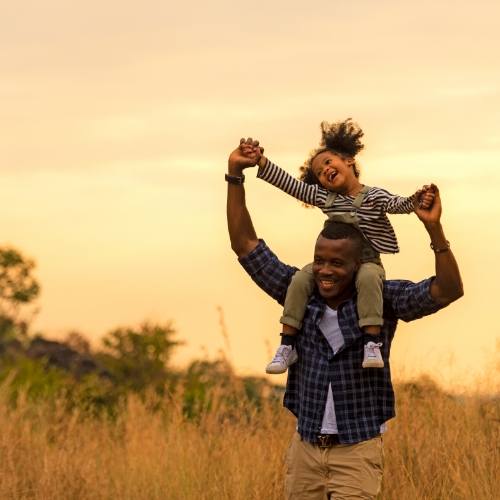 May 18th-21st,2022
"This property is beautiful and the staff was great! I would highly recommend!"
Monica A.
---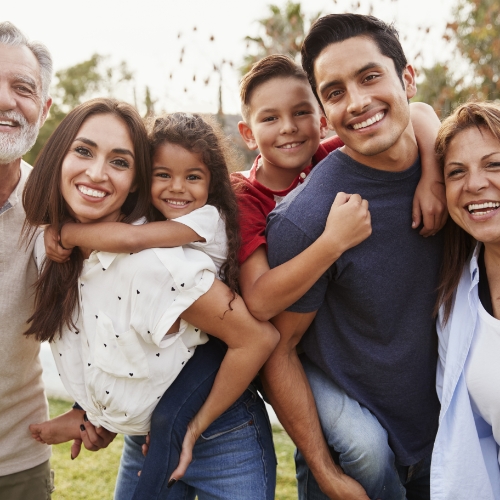 April 22nd-24th, 2022
"I really love it. Great place to spend time with your family."
Patricia Lopez
---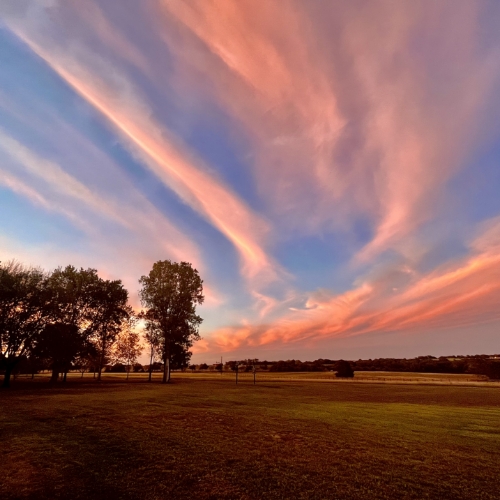 April 2022
"We rented the location for a 2 night work retreat and had a great experience. They were super great with check in and check out times. The amenities were fantastic (pool, hot tub, pool table, shuffle board, grill, huge patio, multiple bar spaces, horseback riding, personal chef etc.) Tons of bedrooms and sitting rooms. Beautiful views (best I've seen in Texas). The horse trainer, Elise, was BEYOND AMAZING. Super helpful and patient, answered all our questions. I would 100% return."
Mikaella B.
---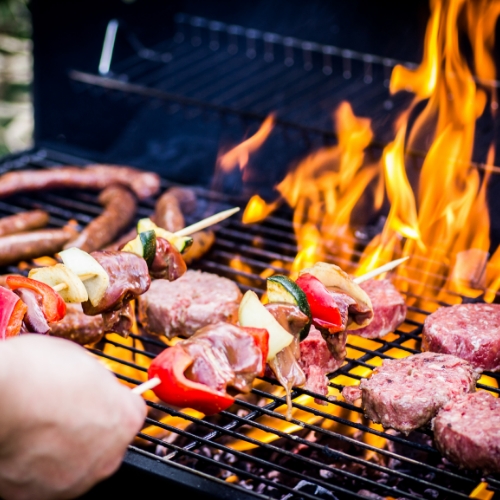 March 30th-April 1st-2022
"Awesome space and amazing service. The food was really good too. They even mailed back a laptop charger we had left behind, mailed next day!"
---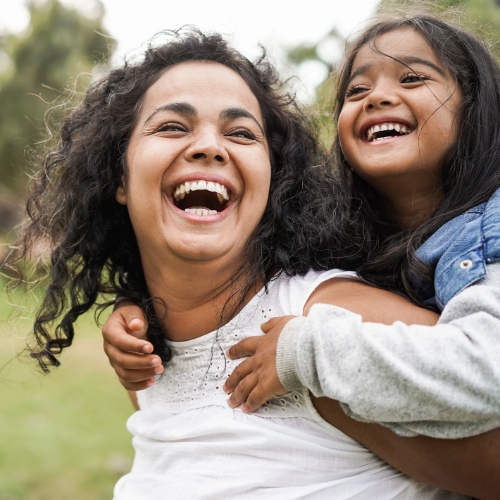 March 14th-18th, 2022
Amazing place to unwind and relax. Will definitely be coming back!
Grace Gerow
---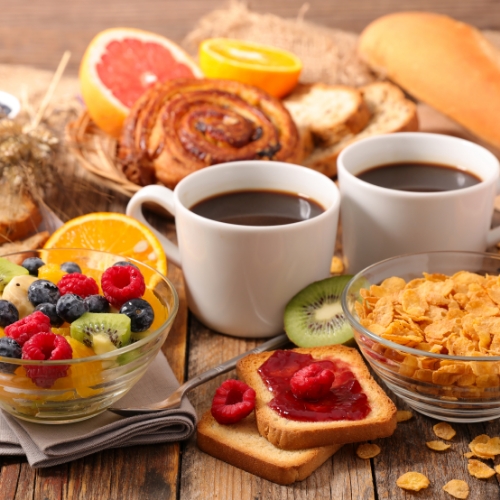 March 10th-13th, 2022
We had an amazing stay at Permavista Ranch! Everyone was beyond nice and accommodating, the meals were delicious and all of the logistics were easily taken care of before hand. Thank you for a wonderful weekend away! Would highly recommended!
Phoebe Massey
---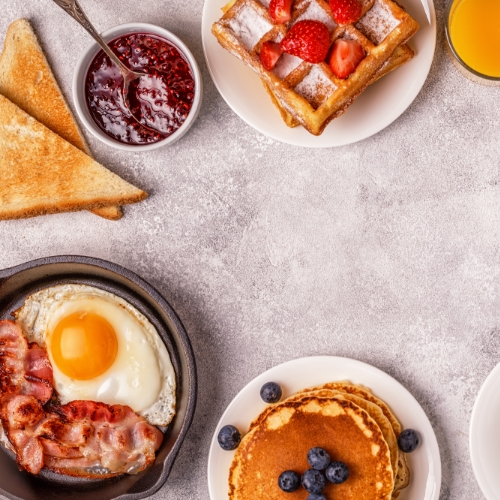 March 4th-6th, 2022
"The ranch is fantastic, pictures do not do it justice. Beautiful, immaculately clean and well stocked for any activity you could want to do.
This is a great place for a guys or gals weekend, family retreat or other event.
The hosts were prompt & kind communicators. The real star of the show was the chef & cooking staff who made excellent dinners and hearty breakfasts with all you could dream of."
Jamie Merolla
---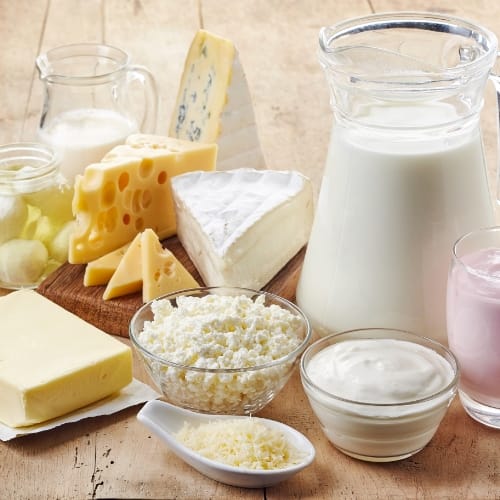 December 2021
"Beautiful ranch the chef and crew are very friendly and helpful."
Tina B.
---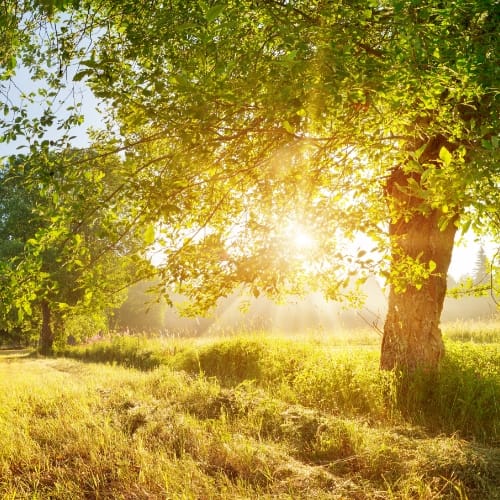 November 20th- 22nd, 2021
Excellent Property
We absolutely enjoyed our time at the PermaVista Ranch. The property was even bigger and better than we expected. We all had a great time. Already starting to plan our next trip back.
Kristen S.
---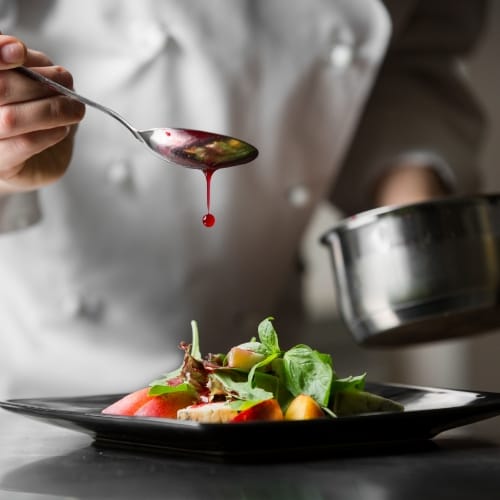 November 2nd- 5th, 2021
WONDERFUL WONDERFUL WONDERFUL!! A reunion for 7 women that have been friends for 30 plus years. Each had our own bedrooms and bathrooms. We can't say enough about the staff and the food!!! It was amazing and like we were going to a 5 star restaurant.. They were friendly, attentive and their food was the best ever! Even though it rained and was cold one day, we played games and had a roaring fire. Perfect. Don't forget to visit the horses even if you don't ride. They were friendly and made great photo opportunities. Beautiful hill country ranch. A great retreat from the noise of our lives. Might have to make this our annual trip. Thank you for everything!! The "Tizzy Up" sistas!!
Debby
---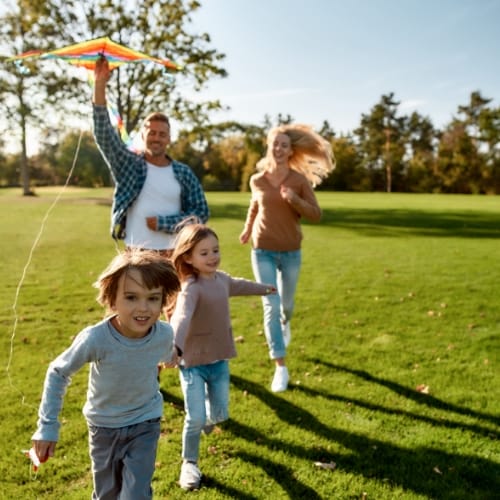 October 13th- 16th, 2021
We took our five children and spouses and six grandkids to the ranch in October 2021. The trip was awesome! We had such a good time and built some family memories that will last a lifetime. The Ranch was a perfect family getaway for us - pool, tennis court, horseback riding, the huge grassy fields to throw the football and frisbee. The game room was awesome! The horse trainer, Elise was outstanding in every way - so good with the small kids but also let the adults have an awesome adventurous ride. We definitely hope to return soon!
Chris Miller
---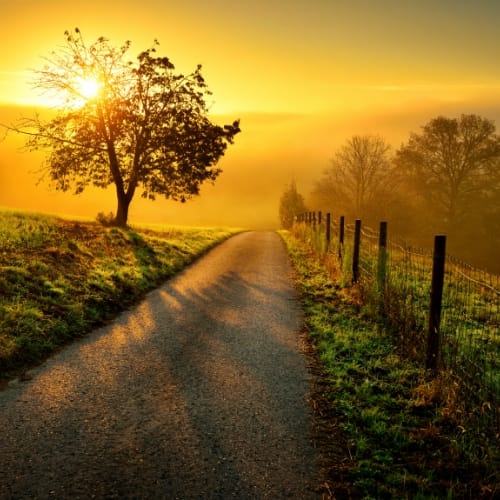 September 24th- 27th, 2021
Great property and staff.
Tim Stark
---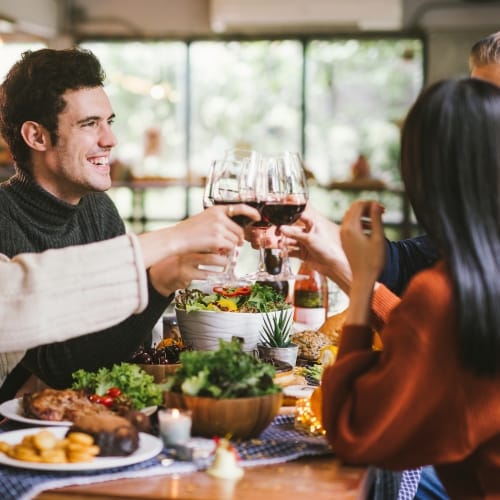 September 9th- 12th, 2021
3 years now for our annual retreat. Great as always!
Imran
---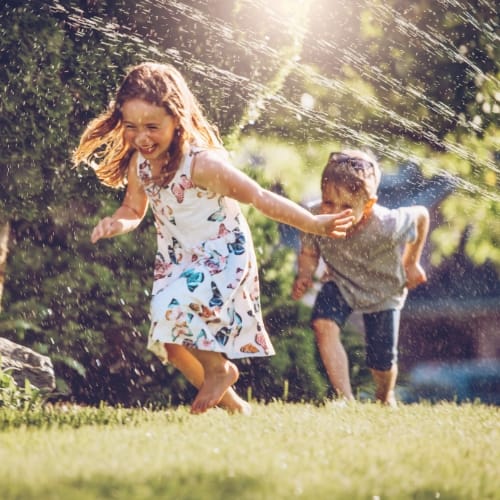 September 3rd-6th, 2021
We enjoyed our stay at the Ranch. Family and friends got together for a long weekend getaway. Check-in was easy. Place was very clean . The best place in the house was the Game room where all spent most of our time. Breakfast provided at Ranch was awesome. Kids enjoyed the horse- back riding. We sure will be back at the Ranch in future.
Rishi
---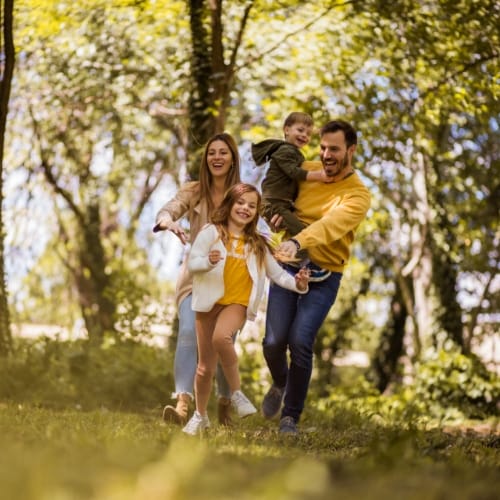 August 20th- 22nd, 2021
2nd visit to PermaVista Ranch was as amazing as the first. I look forward to coming back for a 3rd time!
Jeremy R.
---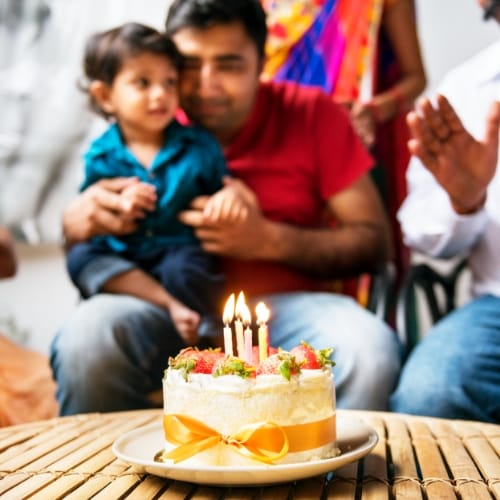 August 8th- 12th, 2021
Great Family Vacation
Best family vacation we've had - 15 adults and 5 small children. Room to gather and places to scatter. Birthday party for two two-year olds, in the party room. Adults up late playing games. Such friendly horse trainer and chef. Great food by chef and staff, and punctual. We want to go back!
Stan Napper
---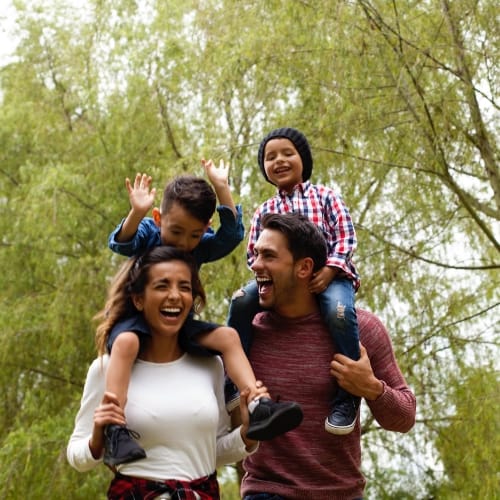 August 5th- 8th, 2021
Amazing views
Plenty of space for the whole family Loved it!!! Ruth is amazing to work with
Amanda L.
---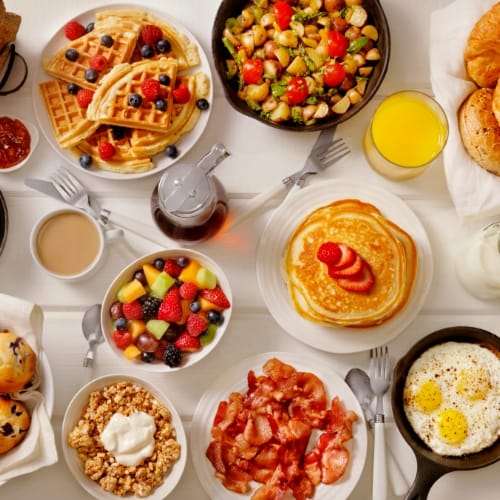 August 2021
We had a group of families visit! An absolutely gorgeous magical time! The property is spectacular! We will certainly have family vacation there again. When they said served breakfast we anticipated a mild continental style. Nope! It's a legendary experience with fresh fruit, sausages, eggs, pancakes/waffles, bacon, etc. the food was incredible. We did not opt for the chef prepared dinner this time. We didn't realize what an amazing experience it would be! Honestly, you could have their breakfast and get the dinner experience. That is all the food you'll need! The game room was insane?! We loved every second! Definitely returning!
Kyle Depew
---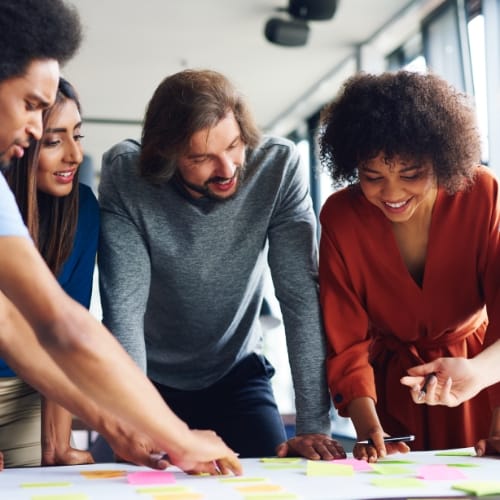 July 26th- 29th, 2021
Absolutely Amazing
Extremely clean, fabulous service, breathtaking views. Will be holding our next team meeting here again.
Derek Newton
---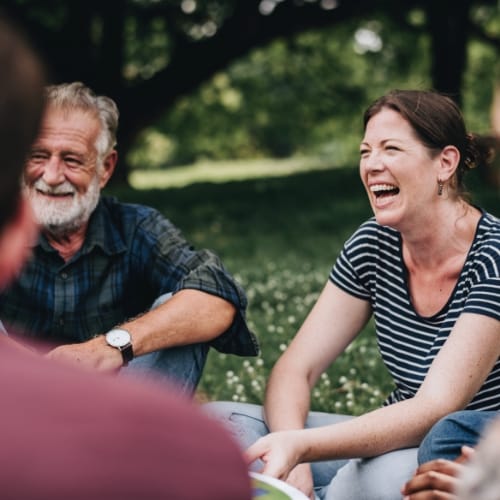 July 22nd- 25th, 2021
A yearly must for us!
We have been coming here for the last 5 years during the summer with our family. We finally decided to plan a weekend with our friends. This was the perfect place for 8 couples. Everyone has their own space but the communal areas are also fantastic. We took daily walks down to see the horses, played wiffle ball on the giant manicured lawn, spent the hot afternoons in the pool, and had a great time in the game room in the evening. Julian and Silvio were wonderful and our friends were so impressed with their food and service. We will definitely be back!
Jenna Medford
---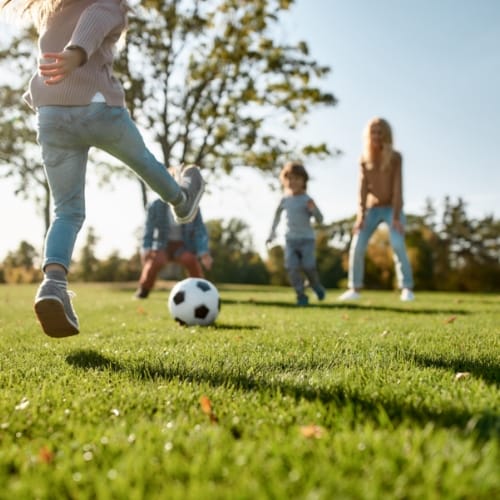 July 11th- 18th, 2021
Great Family Reunion Venue
We have a family reunion every two years and the Ranch was one of the best places we have stayed. We had a pool, shot fireworks, shot clays and did the horseback riding. Silvio and his crew made an awesome breakfast everyday and we had lots of room to spread out. Ruth was a great host and always was quick to answer my questions. Highly recommend the Ranch!
Ben M.
---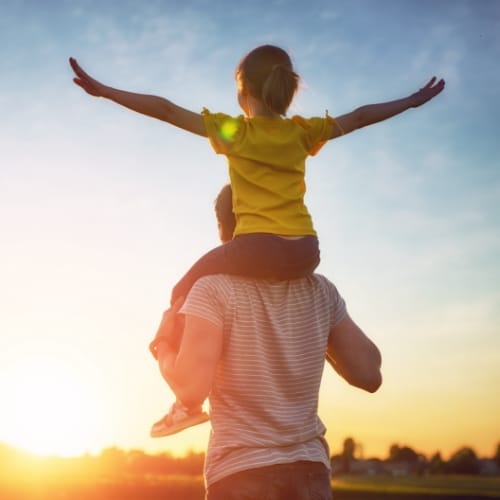 June 28th- July 5th, 2021
Beautiful landscape
This property is spacious and very scenic with beautiful sunrise and sunsets. Our family enjoyed the pool, horseback riding, the well appointed party house, games…lots of things to do. Working with Ruth was a pleasure and Julian is the Jack of all trades. All requests were given prompt attention. Overall the property was a beautiful, relaxing and fun place for our week long reunion!
Connie B
---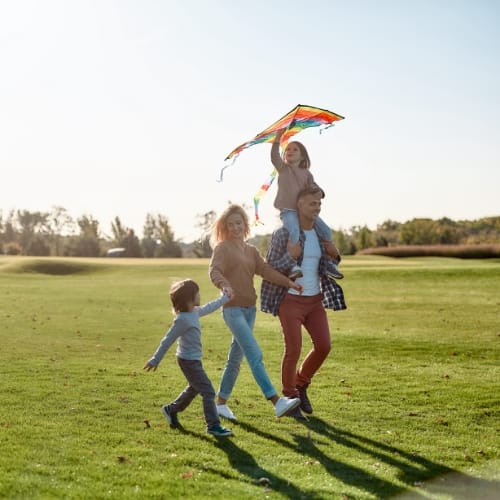 June 23rd- 27th, 2021
Our Family had a great time at PermaVista Ranch. Ruth and the staff went out of their way to make everything great. We will go back again in the future.
Greg Frazier
---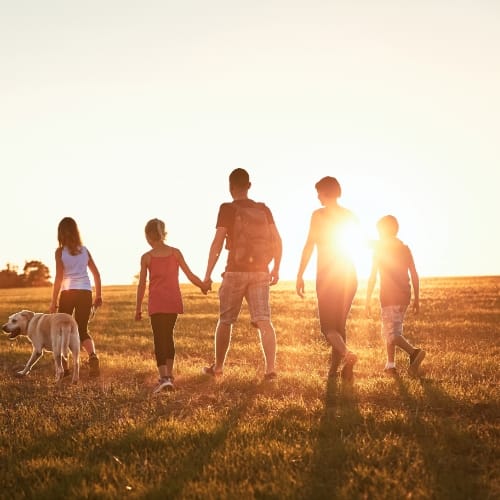 June 20th- 23rd, 2021
Space and activities for everyone
The property is great, very spacious, private and with amazing views. There really is something for all age groups to keep everyone busy. The breakfast and other meals were delicious every day.
Randall R.
---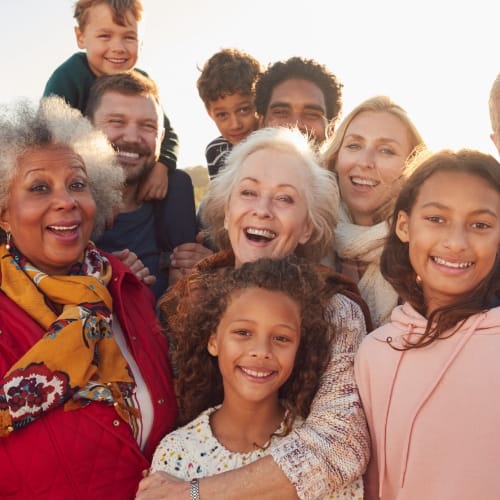 June 17th- 20th, 2021
Repeat Customers
We look forward to our visit all year. And this year the cooler weather added to our wonderful visit.
Paula Medford
---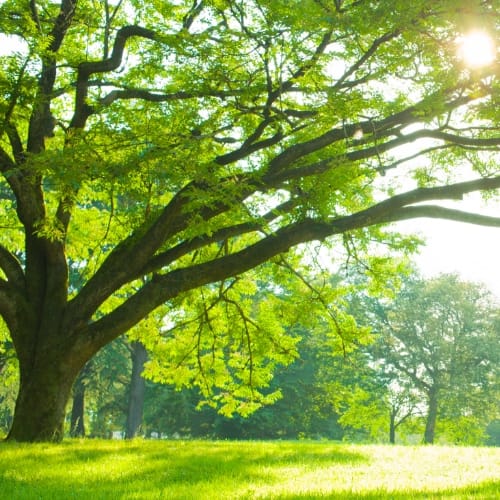 May 14th- 17th, 2021
SImply The Best!
We own a travel company so we travel all over the world, stay in many incredible places and have many unique experiences. We must say that this property and it's management team are simply the best! We recommend this place whether you're a family, a wedding, a retreat, or a weekend getaway! 5 Stars all the way around!
Marty H.
---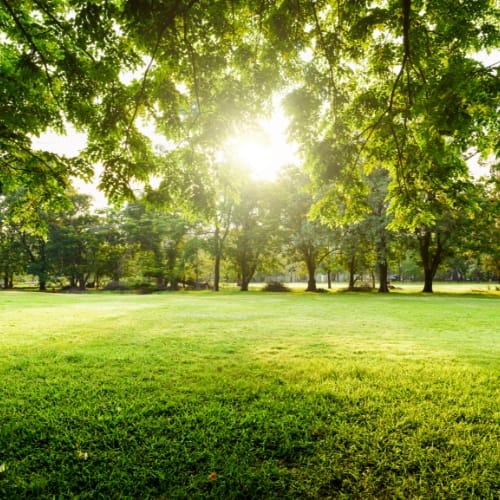 May 11th- 13th, 2021
Beautiful venue and great service team
Carole
---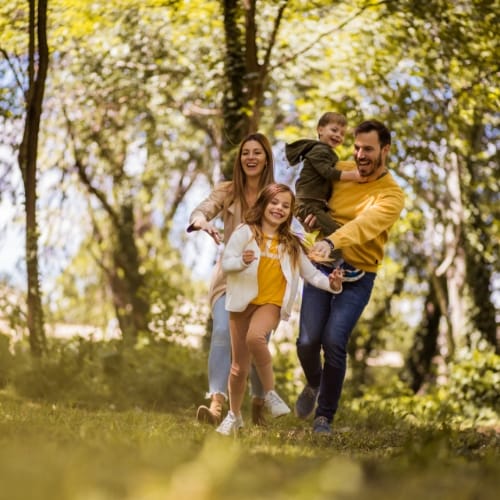 March 26th – 28th, 2021
Private Resort, packed with fun and adventure for all ages
The property is absolutely gorgeous. It is very well maintained and thanks to a very attentive and sincere staff. Everyone you run into is so courteous and sincere in their service. The property Manager Ms. Ruth and the owner Mr. Robert are so prompt in their service. They are always a phone call or a message away. The conversation always results in a solution rather than an excuse, and this is very important for me. My family had lots of fun and all were whelmed with this unique experience. It has everything you would get in a resort but is catered to just you. It gives you the pride and satisfaction to say "I stayed in a private resort!!!". An unique experience, thanks to Robert, Ruth and the Perma-Vista Team. Please continue to keep up the great work, will see you guys soon.
Giri M.
---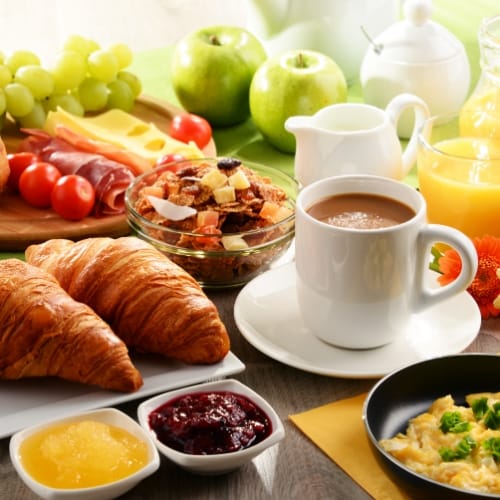 February 26th- 28th, 2021
We had a wonderful weekend celebraring my sisters Bachelorette get together. The place was so wonderful. Having breakfast made every morning was a wonderful treat. The game room was our favorite gathering spot, it is perfect for groups.
Michelle F.
---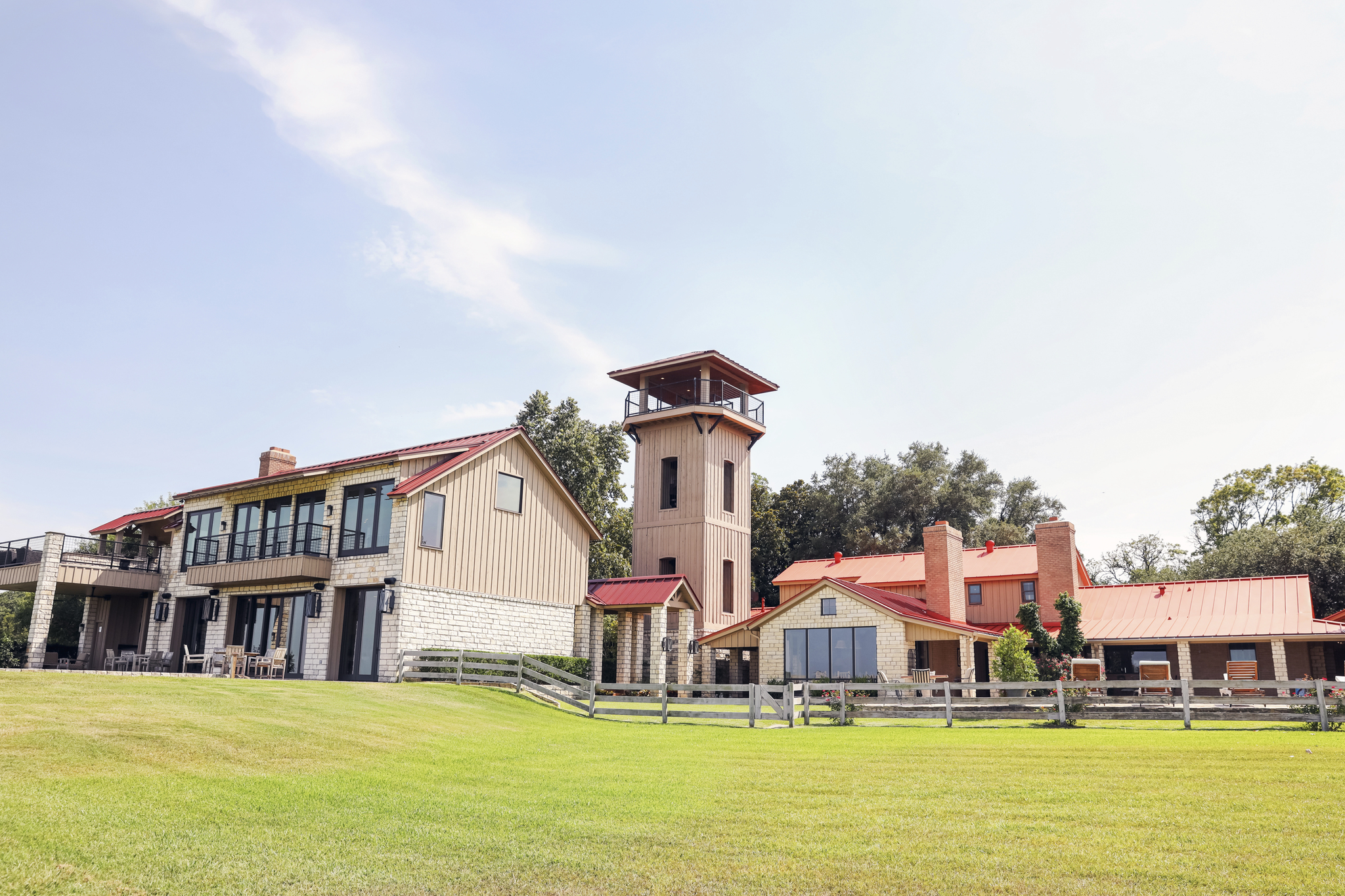 January 29th- 31st, 2021
"You won't be disappointed at Perma Vista Ranch. Not only is it beautiful with wonderful amenities, the staff and food are wonderful ! We love it there ! We have fourteen grandkids and it's wonderful for all ages! Ruth is easy to work with and quick to respond! We will be back"
Ruth Boone
---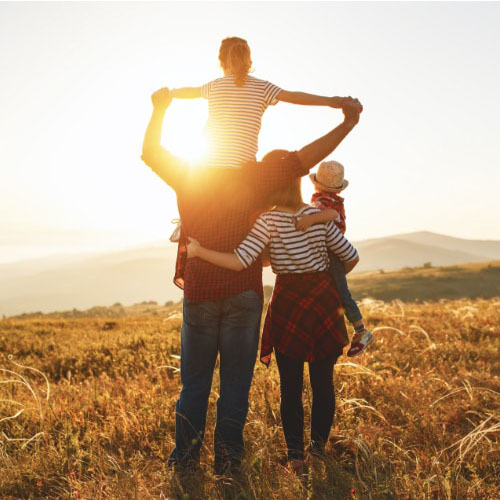 December 17th- 21st, 2020
"Family had a great time
We really enjoyed our stay here. The place was decorated beautifully Christmas. We opted for dinner, and it was an extremely nice treat to have breakfast and dinner prepared and served - and no cleanup afterward. The food was excellent and well worth the price. Filbio and Julian were fantastic. We didn't realize breakfast the morning of checkout was also included, so the dinner bell came in handy when most of us were still snoozing. The accommodations were very nice, and everyone having their own space and bathroom was another big plus. Half our group went horseback riding, and Paige was fantastic. The ping pong table is set up outside, so if it's windy, playing is out. The whole family enjoyed playing shuffleboard, croquet, and watching movies, and a few enjoyed some fishing. Again, overall we had a great time."
Harold Matthews
---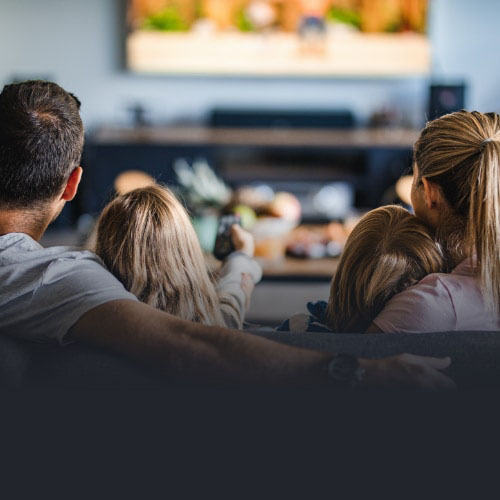 December 4th- 6th, 2020
"Absolutely incredible! We already want to go back."
Beth
---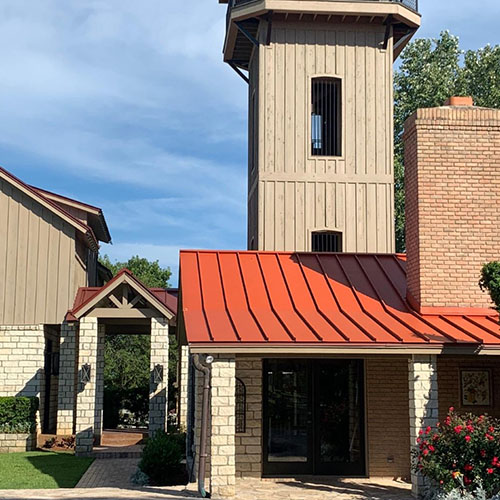 October 17th- 19th, 2020
"Celebrating my engagement party was a huge success here! The amenities are wonderful, and more than we could've hoped for. The chef made amazing breakfast, the host was informative and very quick to answer any questions. Someone is always there on the dot if something isn't working. The tennis courts, the tower, the party house, all of it kept my family happy and busy. Thank you again for sharing such a beautiful house and property with us. We will plan all of our parties here! <3 Ashley & Dustin"
Ashley
---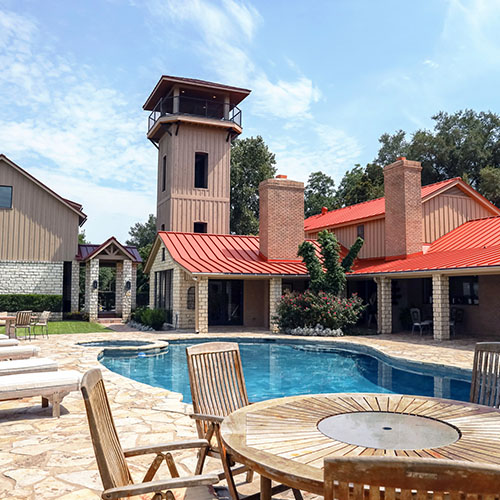 September 25th- 27th, 2020
"Amazing Birthday celebration at the Property
We booked this property for a weekend getaway along with our friends to celebrate my wife's 40th bday. All our guests loved the property and both kids and adults had lots of fun in that 2 days. The property has amazing facilities and we loved the pool/Jacuzzi/tennis court/horse riding and walking trails. 2 days wasn't enough to venture the place completely. Amazing staff who catered to all our needs and the breakfast is an additional plus. Overall we all loved it and people were so sad to leave the property during checkout. Ruth was very helpful and pretty responsive to all our questions. We will surely return back."
Karthik T
---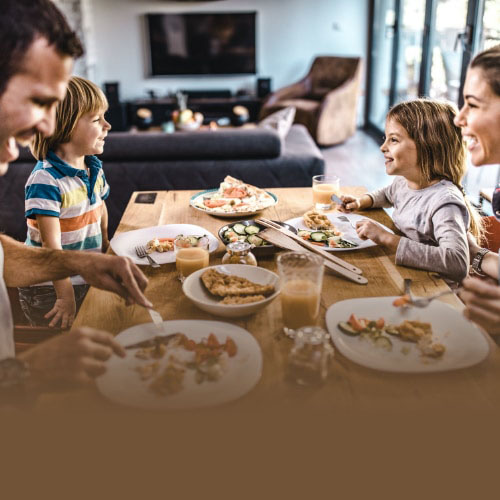 September 4th- 7th, 2020
"The property is amazing! Our kids had a blast with all there is to do here! Will definitely be going back!"
Leanna R.
---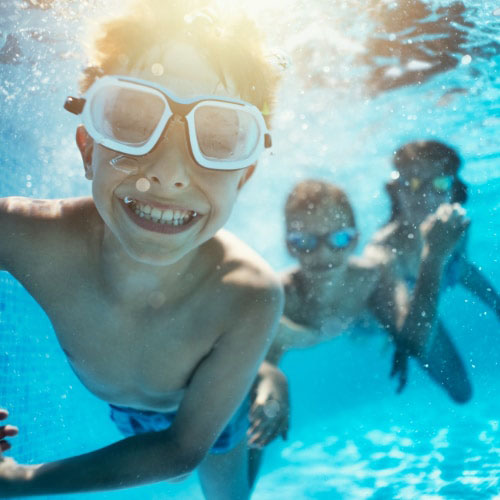 August 26th- 29th, 2020
"Safe Haven
My family and I stayed here when we evacuated for Hurricane Laura. My kids thought we were on vacation and their happiness helped everyone get through a stressful time!"
Stephanie Potter
---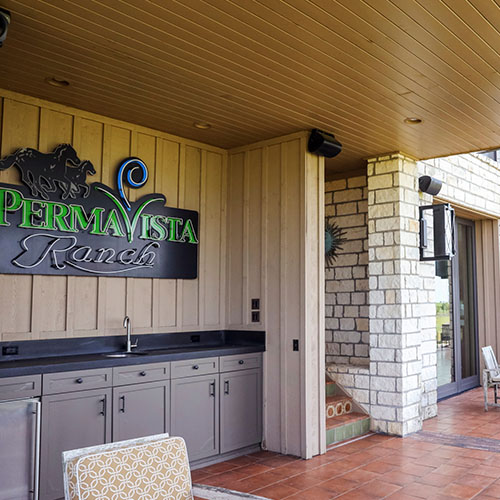 August 17th, 20th, 2020
"PermaVista Ranch is as beautiful a slice of Texas as you can imagine! I took our team of 16 to a work/fun 3 night retreat and were treated to an amazing experience. The home is made to host a large group, is intelligently laid out with views for miles. The staff anticipated every need our group had and took great care of our special requests. You'll enjoy their amazing party room, private nooks, lounges, pool plus all the special decorative touches. Do take advantage of the horseback riding and the private chef. I highly recommend!"
Hector
---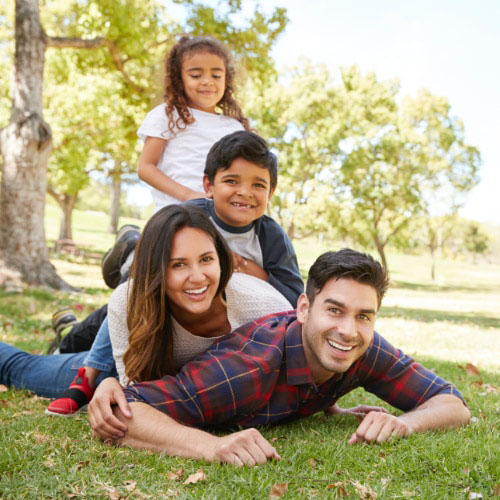 July 30th- August 2nd, 2020
"Repeat customers
Wonderful property, excellent staff and assistance!"
Pala Medford
---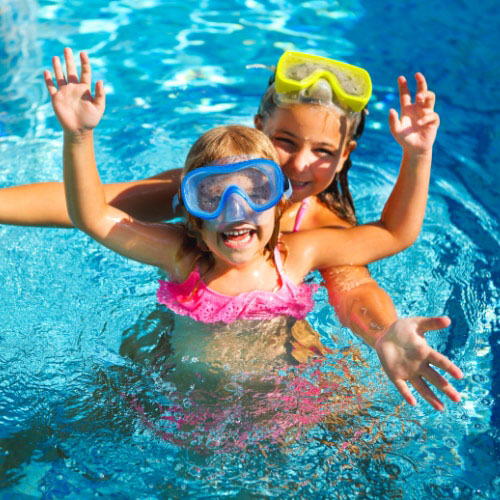 July 22nd- 26th, 2020
"The ranch was fantastic and a great space for our large group. The host was very responsive. We would surely return to the ranch for future gatherings!"
Karla P.
---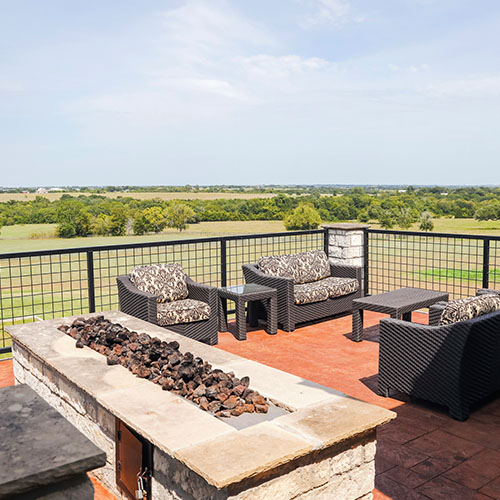 July 3rd-5th, 2020
"Great open space, pool, game room and staff."
Alex
---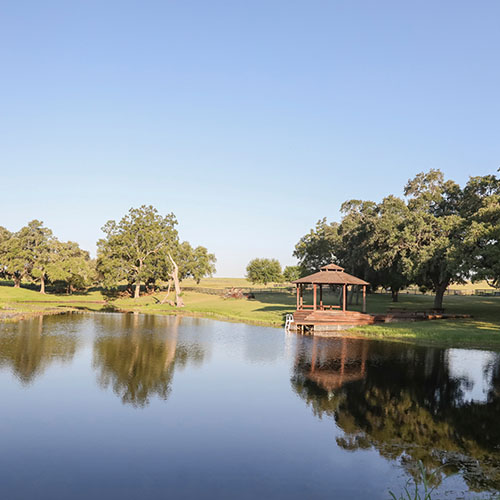 June 29th- July 2nd, 2020
"This place was wonderful much more beautiful in person we are definitely coming back the everyone was so nice"
Andres
---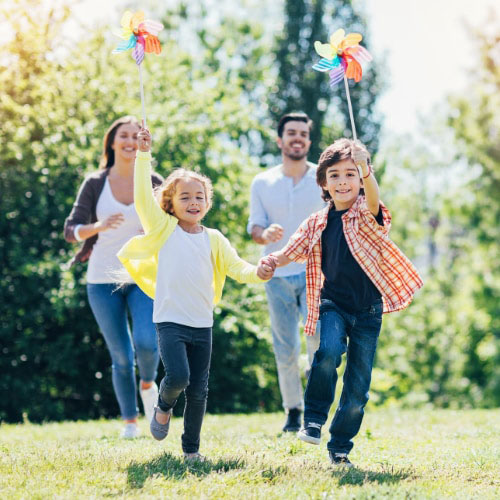 June 4th- 7th, 2020
"This was a really fun trip for our kids and friends. There were a ton of things to do and I highly recommend having Silvio cook dinners for you."
Brian
---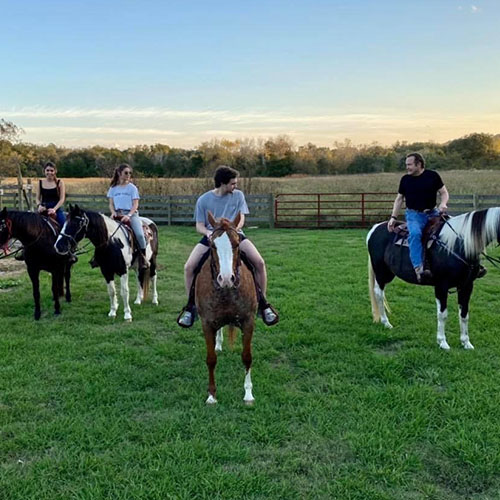 May 23rd- 25th, 2020
"This place is amazing Location is awesome Very flexible and nice staff Plenty of space and activities Horse riding was incredible we loved it We had 16 kids with us and they had a great time"
Rawand K.
---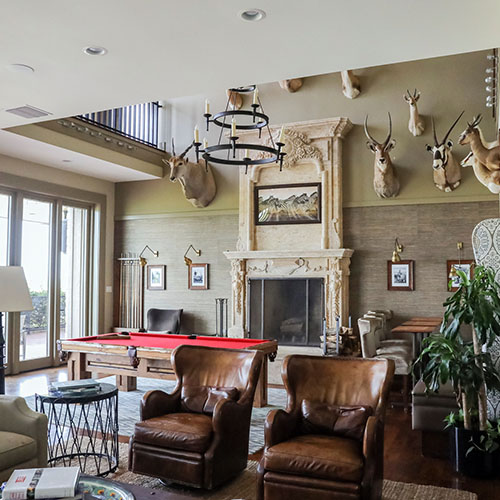 May 2nd- 4th, 2020
"Fantastic stay. The ranch is absolutely beautiful. Amenities are new and clean. And the service was phenomenal."
Jorge Canahuatti
---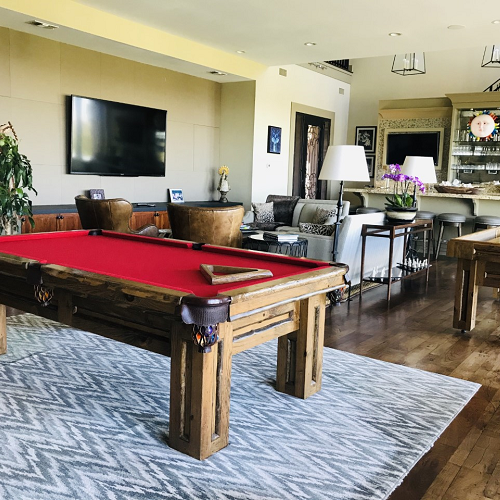 March 18th-21st, 2020
"This place is one of a kind! Ruth is amazing and the staff that cook breakfast are really great! The pictures don't do it justice. The game room, fire pit, pool, 130 acres, horses and fishing combine for a really unique experience. We will be back!!!!! A+"
Peter Clune
---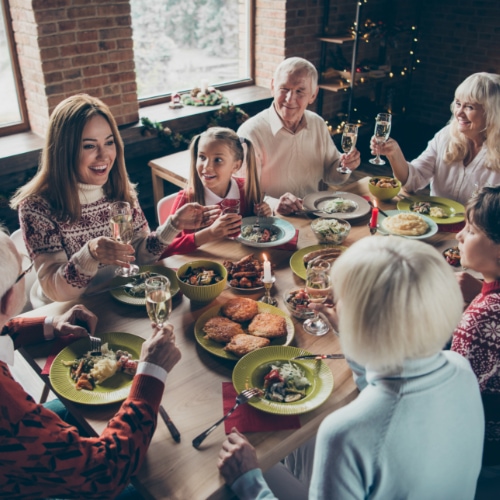 February 21st-23rd, 2020
"PermaVista Ranch is an amazing place to stay! The place was clean and ready to go when we showed up. There is so much space to roam and play sports/games (tennis court, basketball court, ping pong, shuffleboard, etc.)! Perfect for retreats and family getaways. Don't bother looking for anything to do away from the ranch. It is not necessary. We were busy the whole time. The staff at PermaVista were very kind and helpful. We would advise having the chefs Silvio and David cook you dinner one of the nights you stay! Their fajitas (and all of their meals) are fantastic! Ruth, who we worked with to book the place, was wonderful and very helpful when it came to picking food and giving recommendations for things we could go do nearby. She responded very quickly to any inquiries we made very quickly. What a pleasure it was to work with everyone at PermaVista!"
Dawn
---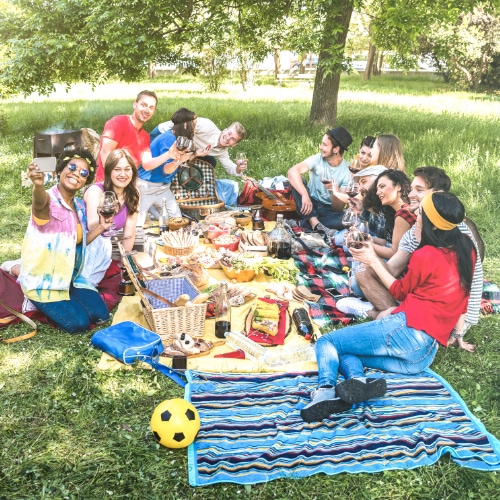 February 3rd-6th, 2020
"Great place for large groups."
Mike
---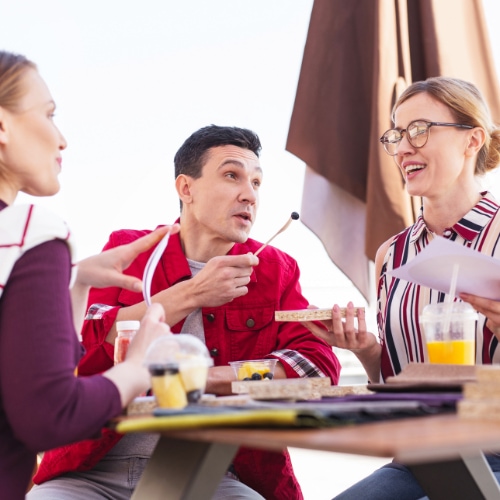 September 3rd-5th, 2019
"PermaVista Ranch is beautiful location for a corporate retreat/weekend. My company rented the ranch for a client weekend and had a fantastic experience. The staff was very friendly, even helped me unload my car and responded instantly anytime we had a question. The chef-prepared breakfast every morning was top notch. I highly recommend PermaVista Ranch to anyone looking for a location for a corporate/client weekend."
Jennifer Finch
---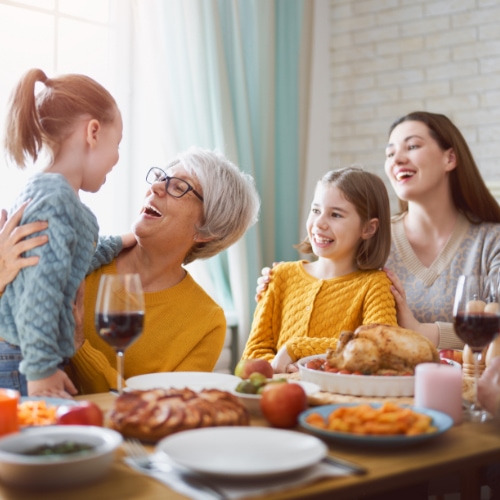 August 31st- September 2nd, 2019
"PermaVista Ranch proved to be a great place for a family gathering to celebrate Mom's/Grandma's 85 birthday. The accommodations and surrounding views are amazing, and all 4 generations enjoyed the pool time with the cool breeze from being a ridge top location. A great place to make family fun memories. Brent Blake"
Brent Blake
---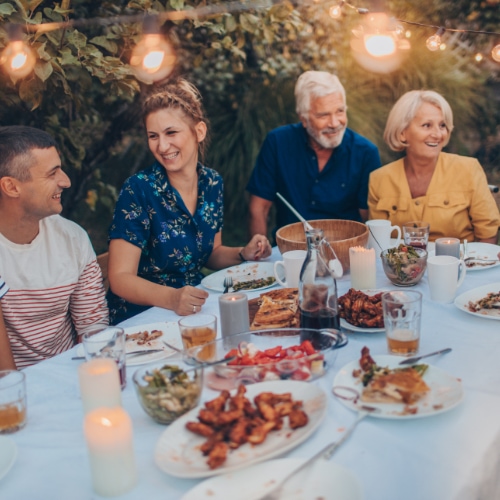 August 2nd-4th, 2019
"Just FABULOUS! Just save yourself the hassle and splurge to have all of your meals prepared for you. It was such a peaceful property and perfect for our friends with families weekend. The home was very clean and was supplied with everything needed. I cannot say enough great things about this property. Perfect for a large group!"
Lauren
---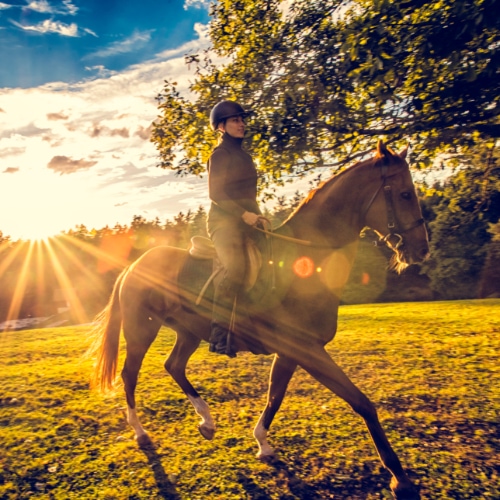 August 1st-2nd, 2019
"PermaVista Ranch is such a hidden gem nestled in the gorgeous hills of Brenham. This is definitely the ideal place for any big gathering you are having such as a family reunion, graduation party, birthday party, etc. The staff are all amazing, friendly, and willing to go above and beyond to make your stay perfect. The rooms are gorgeous and feel exactly like home. I don't think a stay at a ranch was ever more luxurious than my stay at Permavista. There are also activities to keep all ages happy entertained like tennis, basketball, horseback riding, and more. The pool and hot tub are definitely perfect for relaxing after a long day. If you are looking for your next event location look no further because it doesn't get any better than PermaVista."
Alex Ashraf
---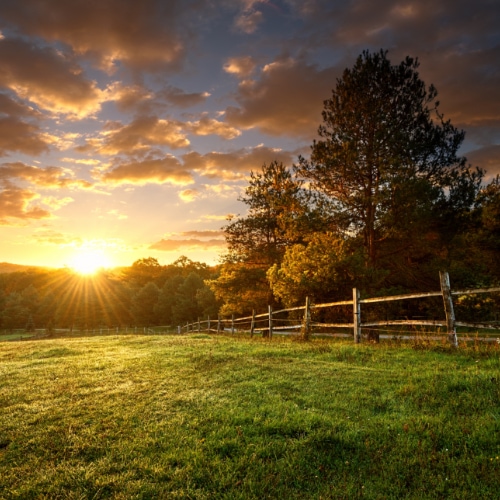 July 12th-14th, 2019
"Great location for Cousin Camp. From first communicating with Ruth, to having Julian help with turning on pool lights, Shannon and horseback riding,, and the chefs and house staff I was highly impressed at the efficiency of everyone. They are like a wonderful team each using their individual talents to create a memorable stay for their guests."
Carolyn Conklin
---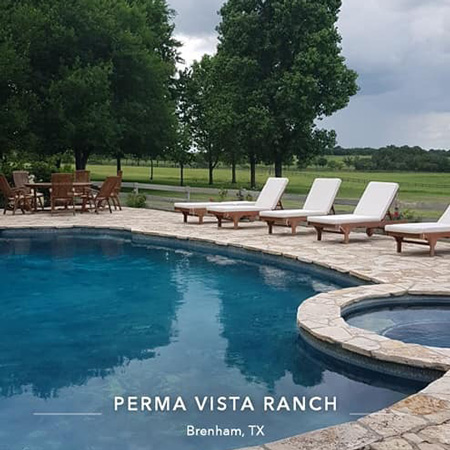 June 30th-July 2nd, 2019
"Fabulous ranch, loved our stay. Amazing to communicate with Ruth she was very helpful! A little far from everything but amazing for a retreat!"
Jade C.
---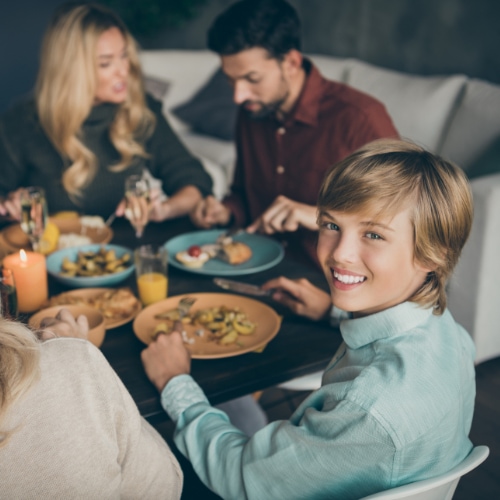 June 23rd-29th, 2019
"We had a wonderful time!
The staff was amazing and took care of our every need. We really appreciated the smiling faces. The croquet court and horseback riding were added perks and really enhanced our stay. The setting of the property is beautiful. Having breakfast prepared was a huge bonus. I would highly recommend this property for family reunions."
Lisa Elrich
---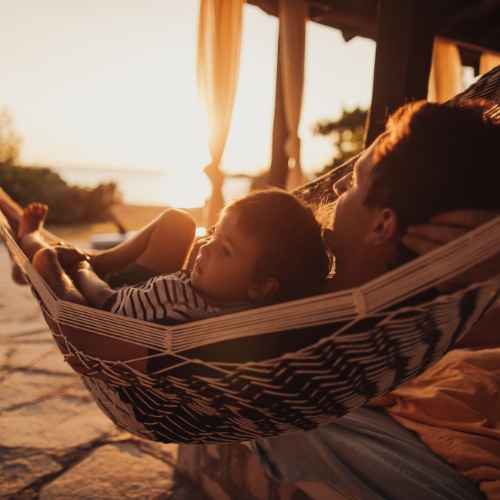 June 20th-23rd, 2019
"Second visit: It's a beautiful place to gather for fun, activity, rest and relaxation. The staff is the best and so helpful. We hope for many visits in the future."
Paula Medford
---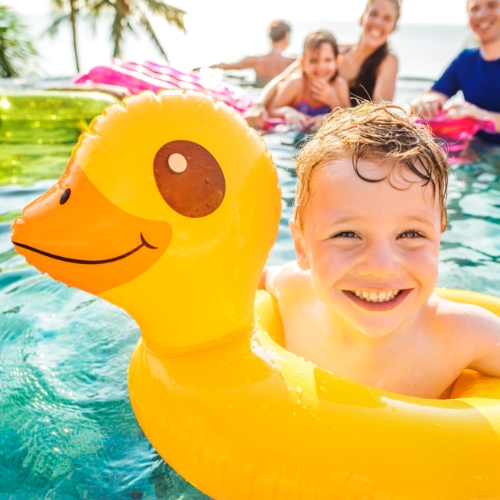 June 14th-16th, 2019
"Our group of 18 had a wonderful time at the ranch. The property was expansive and beautiful. Everyone enjoyed the swimming pool, game room, and horseback riding. The staff on the property were great and breakfast was delicious. We will definitely be back!"
Rachel Le Tang
---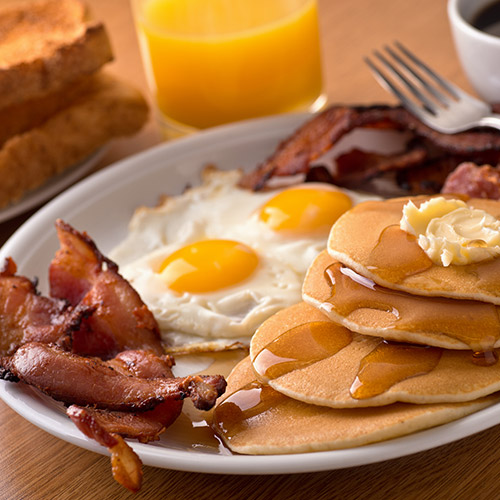 June 8th-9th, 2019
"The most awesome place our family has ever been to. The service was great and the food was excellent. We will be back next year!"
Bryan M.
---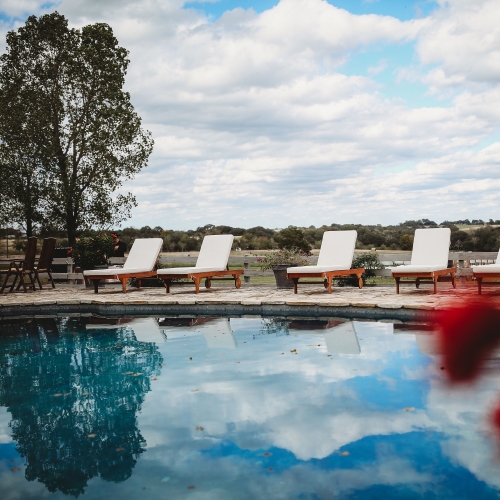 June 7th-8th, 2019
"OMGosh... Perma Vista Ranch is Amazing! The Venue met all of my families expectation and beyond. Neat, Clean and a great location. Ruth was the most helpful, courteous, kind, & accommodating concierge I could ever hope to work with. She made sure all of our needs and concerns were met! The chef, Silvio and his staff had a delicious breakfast/brunch ready for us every morning! Fun activities provided by the ranch were numerous… Horseback riding, tennis, basketball, swimming just to mention a few were our favorites... the hot tub was the best in the world!!! I would highly recommend this "5 STAR"
Venue! You won't regret it! THANKS, PERMA VISTA RANCH for making my dream come true for the best & memorable weekend getaway for my E&E Family Retreat! We will see you NEXT YEAR!"
Vivian Metoyer
---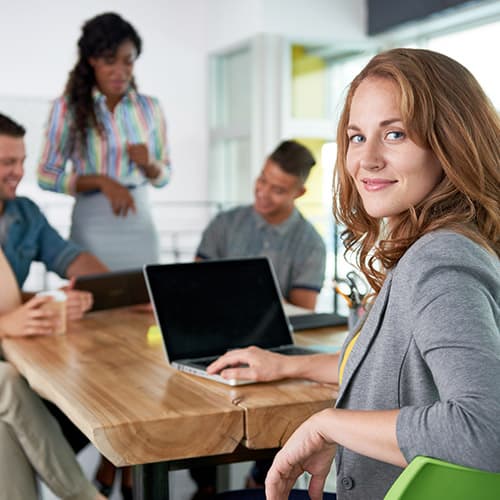 May 29th-31st, 2019
"This was beautiful destination for a meeting, spacious, relaxing, the staff was wonderful with really great accommodations. I 100% would recommend it for a work retreat, family vacation or a weekend away with friends (already thinking of returning for a girls trip!)"
Ellen Edwards
---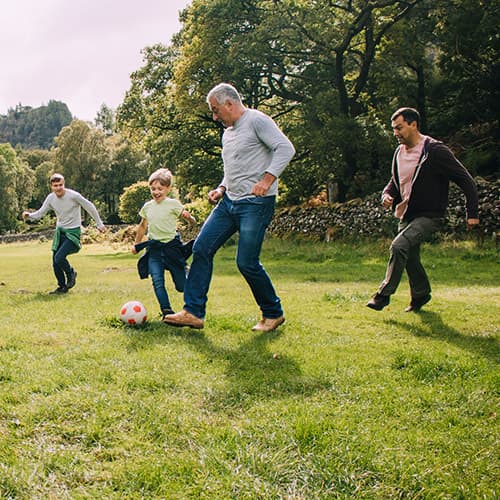 May 23rd-27th, 2019
"We were a large group of five families with kids. the house and property were plenty spacious and accommodating for all of the kids and adults. We took advantage of the horse back riding, the pool, playset, tennis courts and the large open lawn for plenty of running around and games. The breakfast was prepared each morning by an amazing team and it was absolutely delicious. I highly recommend the catered dinners as well. The food was exquisite. Also, the house set up is ideal as each family had their own separate space and bathroom. The property was just stunning but the hospitality by Robert, Ruth and staff was beyond - 5 stars and more! amazing place for large groups."
Kate C.
---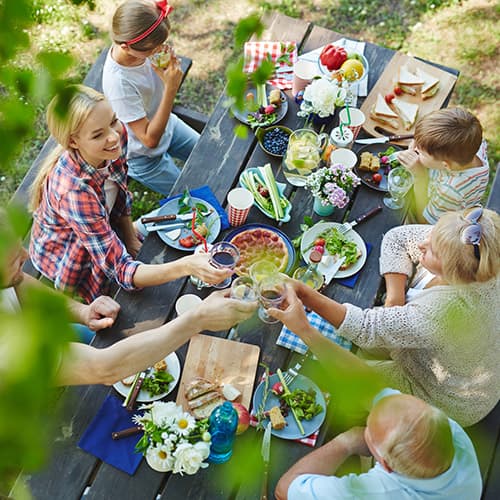 May 17th-19th, 2019
"Our experience at PermaVista Ranch was incredible!!! It is definitely the best place to have an outdoor wedding. The view and and the house are beautiful!! The staff was extremely helpful and Ruth was amazing! She was extremely helpful and very easy to reach!!! Again, I totally recommend PermaVista Ranch for outdoor weddings or even to spend some quality time with family or friends!!!"
Louise G.
---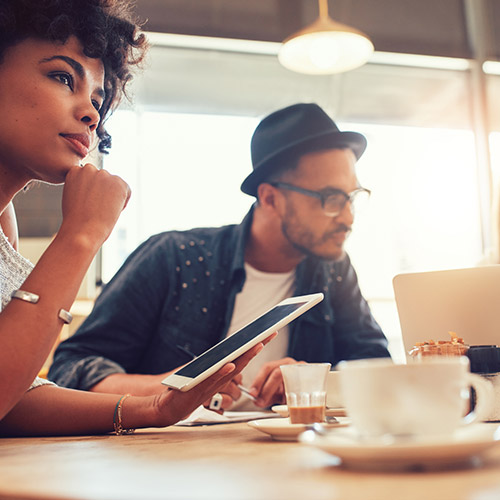 May 9th-11th, 2019
"We had an amazing time!! Blew us away."
Dan
---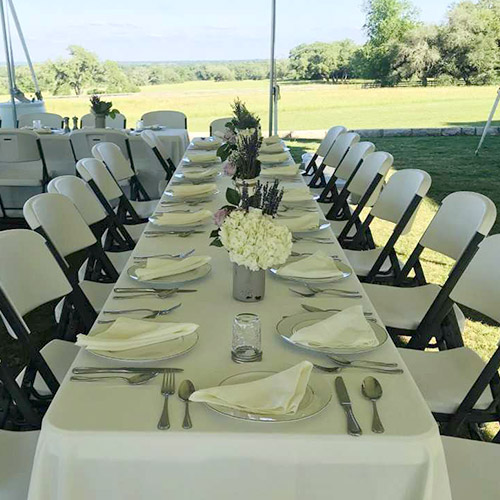 April 25th-27th, 2019
"We had our wedding ceremony, reception at this place. Ruth was very helpful assisting us from wedding planning to the executions on the day of the ceremony and reception. The staff members and horse trainer are very helpful and welcoming as well. Our families were amazed by the view and facility this can provided for us. We highly recommend people who consider hosting a memorable and unique wedding event or family reunion."
Bo Wang Leo
---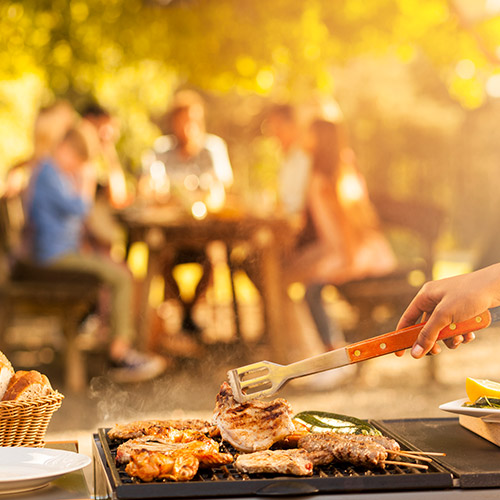 March 8th-12th, 2019
"3 families. 6 adults and 8 kids. tons of room tons of things to do. beautiful property. beautiful home. some bnb ad photos can really make a home look much nicer than it really is. not the case here. beautiful home with tons of space to spread out. we didn't buy any lunches or dinners but the provided breakfast was outstanding. tons of refrigeration space for food and beverages. will definitely be back. perfect spot for 6-7 cpls only getaway."
Joe Arraiza
---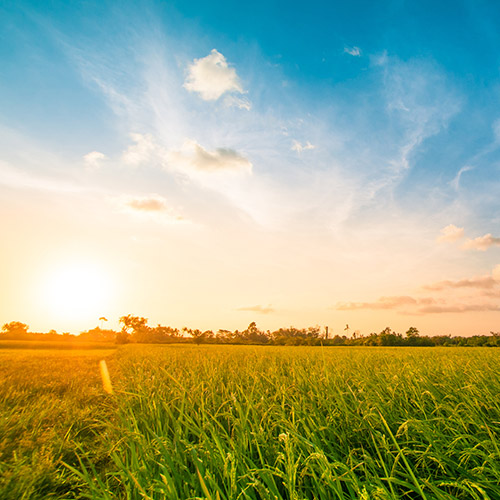 February 22nd-24th, 2019
"We love it."
Muhtadi Karovalia
---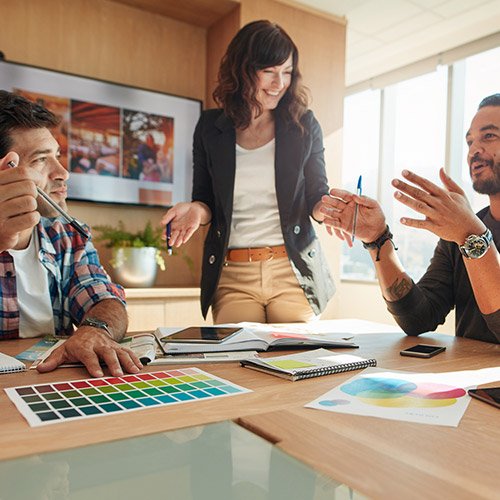 January 31st-February 3rd, 2019
"Great place for a business team retreat."
Austin Davis
---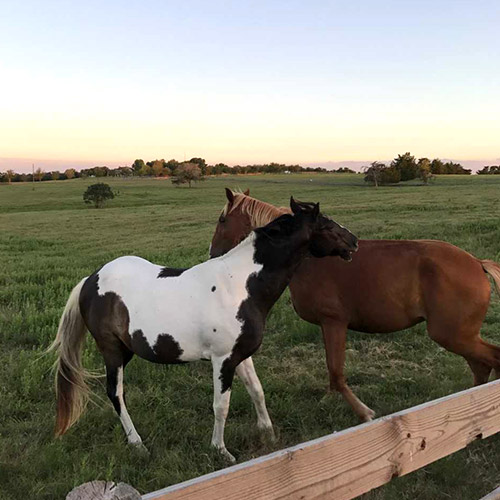 December 27th-31st, 2018
"Met all our expectations
We absolutely loved everything about this place! From the time we got there the staff was so helpful and delightful. our meals were delicious and our family of 21 found it extremely relaxing ! There was plenty to do for anyone that wanted to be active. We had family tennis tournaments and numerous outside need fun wars with the kids! They loved the horses also. The game room was a favorite spot on rainy days and our beds were great! We will return!!!"
Ruth Boone
---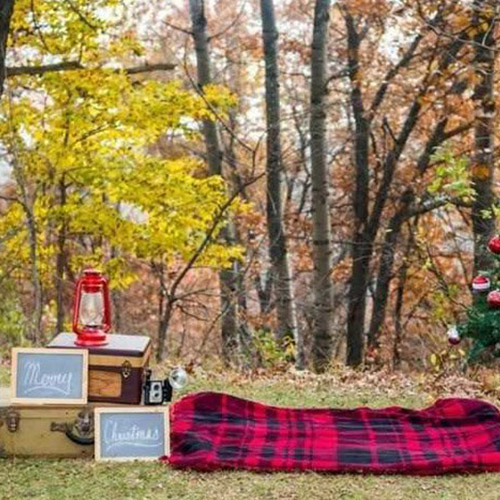 December 7th-9th, 2018
"We had our company holiday party at the ranch and it was fabulous! The ranch is gorgeous and Robert (owner) and Ruth (manager) were so attentive and helpful. They helped us schedule various activities for the children, including a bounce house and a snow machine. The weather didn't cooperate with us but it was still a success because there was so much space. I highly recommend this property!"
Tiffany S
---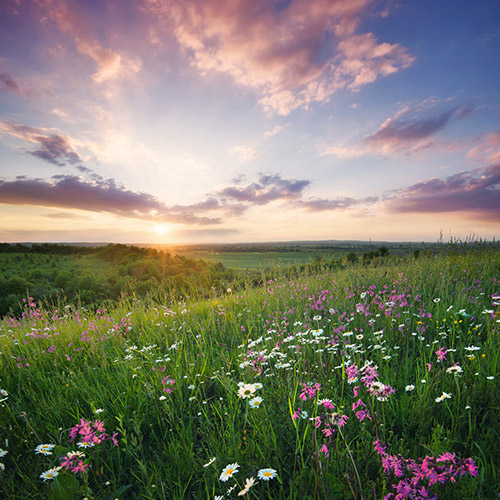 December 4th-6th, 2018
"We had our leadership retreat at this property and it was fantastic. The views of the rolling hill country we amazing. The complimentary breakfast was great we really enjoyed all that the property had to offer. This is defiantely a property we will look to use again!"
Donnie Carr
---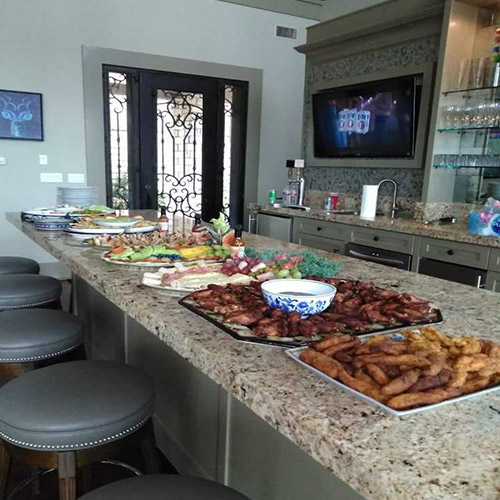 November 8th-12th, 2018
"The personal chef made this experience such an added bonus. we had terrible weather in texas and were unable to enjoy horseback riding nor the pool/jacuzzi but thank goodness for the awesome chef! he made an incredible spread for us!"
Stephanie
---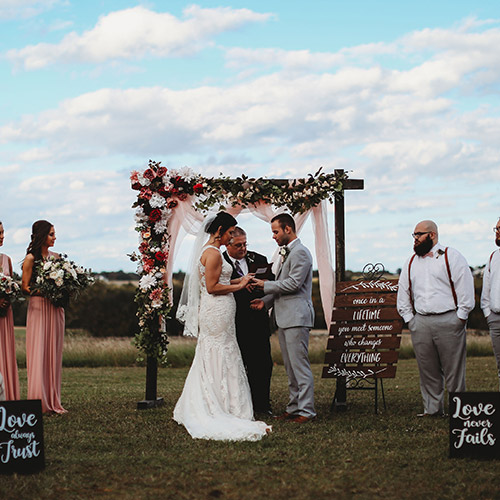 November 2nd-4th, 2018
"HUGE thank you to Ruth for making sure our wedding day went perfectly. Wind was horrible, but she was there and had the staff put siding on the tent to fix the problem. The property was beautiful. The catering was beyond great. Everyone complimented the venue and property. Ruth is attentive to your needs, and is there for you when you need her. The horseback riding was great for the family the day after the wedding. You won't find many places that your wedding party can stay the whole weekend and have the wedding at the same location for the price. 5 STARS all the way around."
Cory E.
---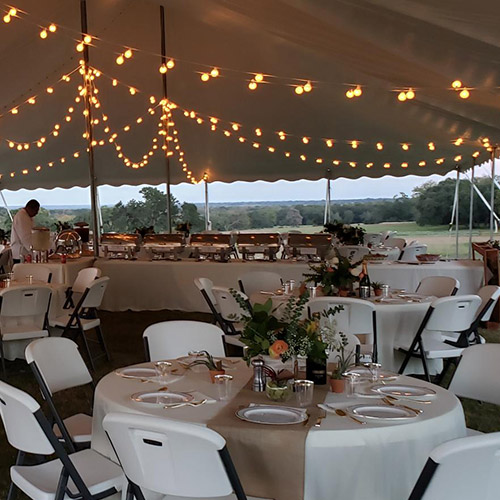 October 26th-28th, 2018
"PermaVista is an amazing, beautiful space. My now-husband and I had a beautiful wedding celebration there and every. single. guest was wow'd by the location. We are so grateful for all of the amazing amenities on-site + the spectacular food that we were able to enjoy. Both of our immediate families stayed comfortably on the ranch all weekend and had an incredible time. I could not have asked for a better wedding venue or people more helpful in working with us to create a weekend special not only for us, but our friends and family too."
Paige B
---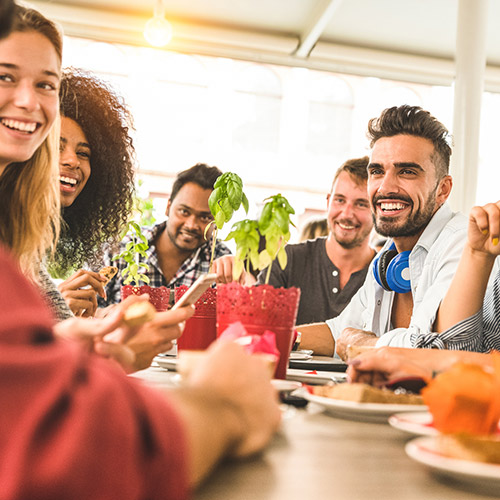 October 12th-14th, 2018
"Our executive team spent the weekend at PermaVista and could not have been more pleased. Ruth was extremely responsive to every random email and question that we sent leading up to our visit. The ranch itself is serene, peaceful and the perfect place to conduct our executive meeting. The rooms were spacious and well appointed and the grounds had so many fun activities including horseback riding and tennis. While the amenities were impeccable, the food provided by the ranch was absolutely out of this world. We will definitely be visiting again!"
Nichole Z
---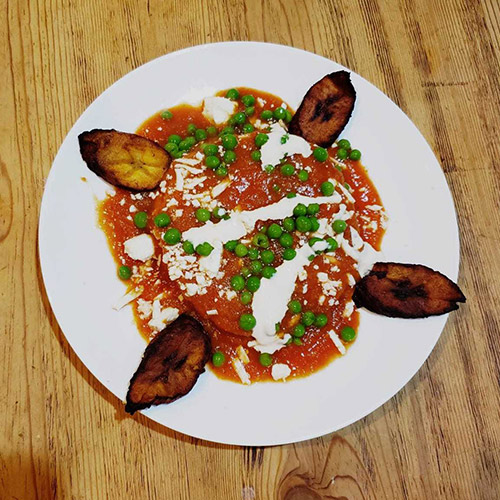 September 15th-16th, 2018
"Beautiful grounds with a super updated and beautiful game room! The hospitality here was fantastic and check in and check out was a breeze! There is plenty of space to have 13+ people and they also have two precious dogs that our group fell in love with and were by far the highlight of our stay! Breakfast was prepared for us the next morning by the chefs and it was delicious - a great way to start the day! We would absolutely stay here again."
Mika
---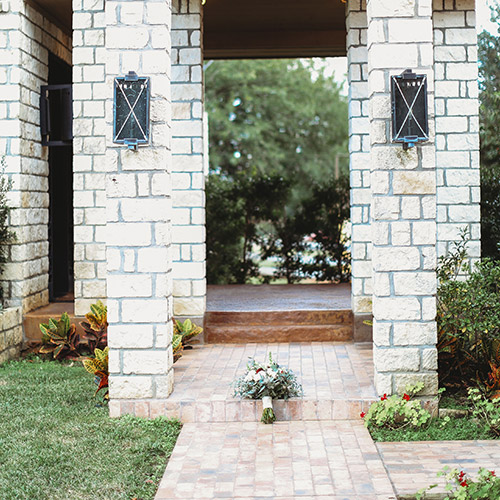 September 6th, 9th, 2018
"Incredible place. Great food.
The whole group loved the place. The big game room out back was a huge hit. The staff was fantastic and very helpful. Highly recommend."
Peter Saddletree
---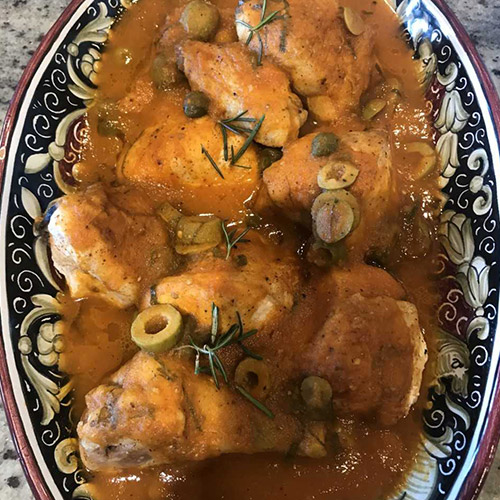 August 20th-22nd, 2018
"Our work group had a WONDERFUL time. The staff was very attentive, the food was wonderful, and the lodging and
facilities were exceptional."
Jodi
---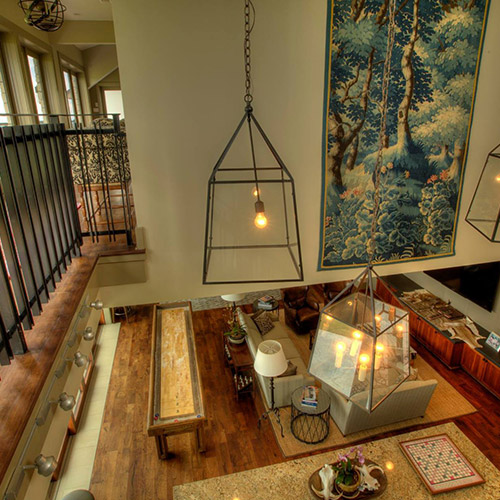 August 9th-10th, 2018
"Property is amazing. The game room will blow you away. Very attentive staff. Food was great. Would highly recommend for any corporate retreats or large family getaway."
Sirus
---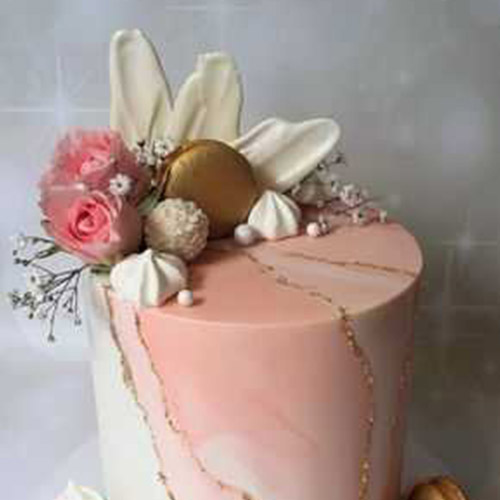 August 3rd-7th, 2018
"Amazing. place
Everything was amazing. We had a great time. The crew here is wonderful and our Henry, 2 year old, brushed up on his Spanish!!! The chef and helpers were wonderful. Food was amazing and the birthday cake was a huge hit. The large family room and outside is where we spent our time. The family room is wonderful. 3 TVs and we had them all on at once. The last night was tournament night and all sports were in a bracket. . Thanks to the owners for allowing us to be at a peaceful place, all together and away from work. We have a family owned company and each family here has at least one member that works there. It has been great to get us all away at one time and get to be together for fun. Horseback riding was a huge fun experience for the 3 older siblings that realized they were 40 somethings and they had never been on horses together. We are grateful that we could have such a wonderful vacation at a wonderful place."
Susan Jasper
---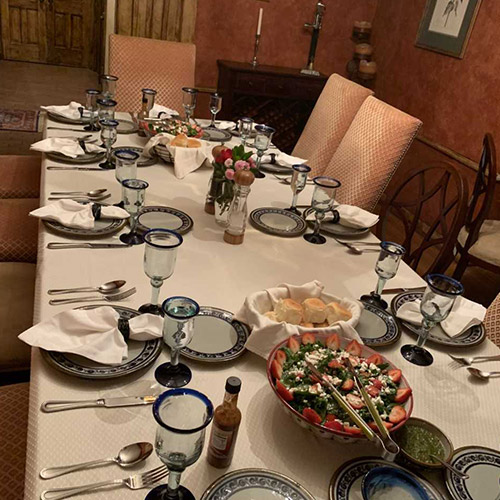 July 27th-28th, 2018
"Great place and we will definitely be back! We had the chefs take care of all of our meals and it definitely was a good call!"
Hee Kim
---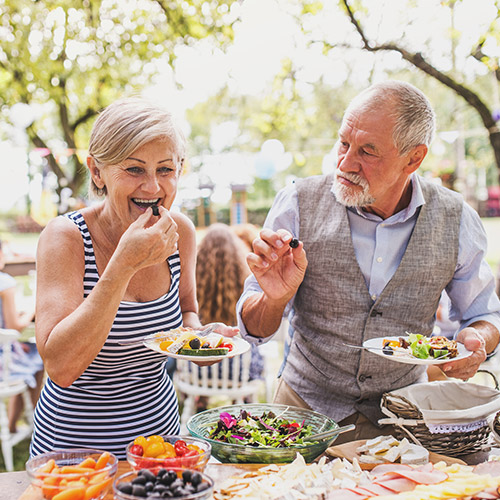 July 19th-22nd, 2018
"Beautiful retreat
Wonderfully beautiful property and residence. Our group aged 2 to 82 enjoyed every minute. Quick response to questions or needs. Excellent chef and staff. We hope to return!"
Paula Medford
---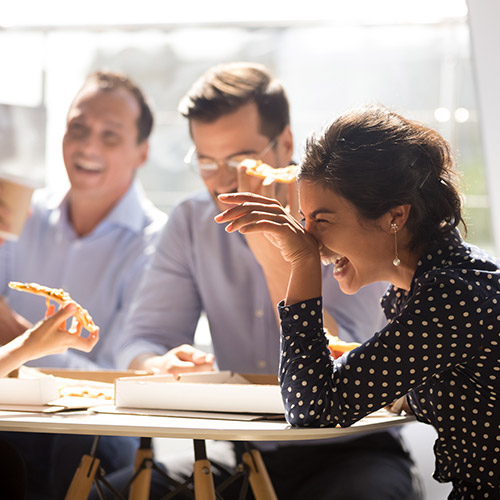 June 14th-17th, 2018
"Permavista exceeded our expectations and proved to be more than adequate for providing a venue for family members to reunite and celebrate."
Lindsey H
---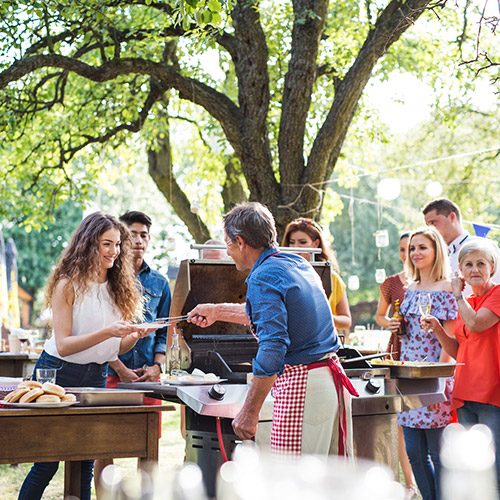 June 1st-2nd, 2018
"Our company had a great time there. Everything look even better in reality. It's a huge building with lots of common places for us to hang out as a whole company."
Ly
---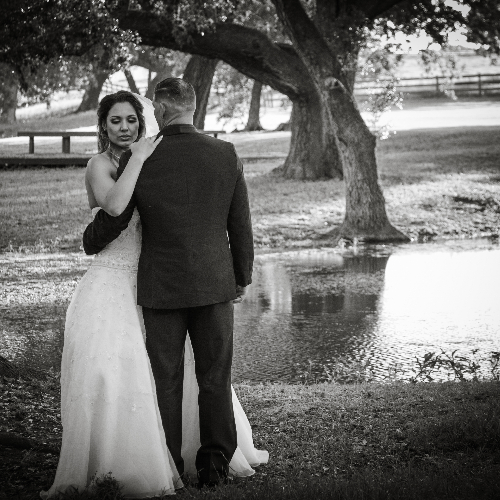 May 11-13, 2018
"We used this ranch for my wedding. The ranch is really closer to a tiny resort. It was an absolute dream come true! The entire place was kept immaculate and the grounds were lovely with flowers blooming, a perfectly trimmed lawn and a spectacular view. The entire staff was very accommodating and responded to any questions I had almost immediately. You truly have to see to believe the beauty of the place. I'm really appreciative that the owner, Mr. Andrews, made a choice to share his beautiful getaway with people. The staff tends to stay in the background, magically appearing at the smallest of requests. As an added bonus, the food was top notch and we were able to have the meals at a time of our choosing. If you have any sort of soiree planned in the future, from a small intimate gathering to an event as large as a wedding, I definitely encourage you to use Perma Vista Ranch."
Tasha G.
---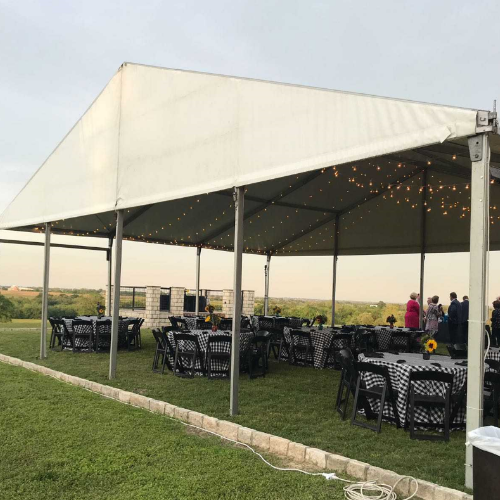 April 19-22, 2018
"Last year, when I heard our son was getting married in Brenham during wildflower season, my first thought was "where will we stay with our large family coming from out of town"?! Options are limited in such a small town especially that time of year. We have family of all ages coming long distances needing a comfortable special place to stay. I happened to find Permavista Ranch online and scheduled a visit. Ruth gave us a tour and a description of the services and I reserved it on the spot. Over the past few months, I have made several visits out to the ranch to make arrangements for special family dinners, horseback riding, and a large rehearsal dinner on site. Ruth was available to give me input and let me get the feel of the place on my own. No pressure sales, just presented the options, made experienced suggestions and introduced me to Julian, Permavista's chef and on site manager. Together, they helped me plan a memorable experience for our family to spend time together in between the wedding festivities. It gave the adults time to relax from high stress work life while providing a safe place for the children to have fun at the basketball court, shuffleboard and pool tables and horseback riding. The on site staff made us feel very special providing a personalized sit down breakfast every morning, a culinary experience for an intimate family dinner and being available to help out in any way needed. They went above and beyond my expectations for the entire weekend and I hated to tell them goodbye - wonderful people all around! We also hosted a 100 person rehearsal dinner on the back lawn with all of the trimmings. The backdrop and view of the property made for a very special and beautiful evening. The photos turned out beautifully. Julian and his staff worked with us to keep things moving forward throughout the chilly night, even making adjustments to the lights in the tent, getting fires in the fireplace and overlook fire pit then helping with end of night clean up. Could not have done it without them! Overall, our experience was memorable and all of the family hated to leave for the airport on Sunday morning to head home. Our stay at Permavista Ranch played a huge role in making priceless family memories of this wonderful busy weekend! Thank you to Ruth, Julian, Shannon and their staff for their kindness and consideration throughout our visit. We WILL be back!"
Diane H.
---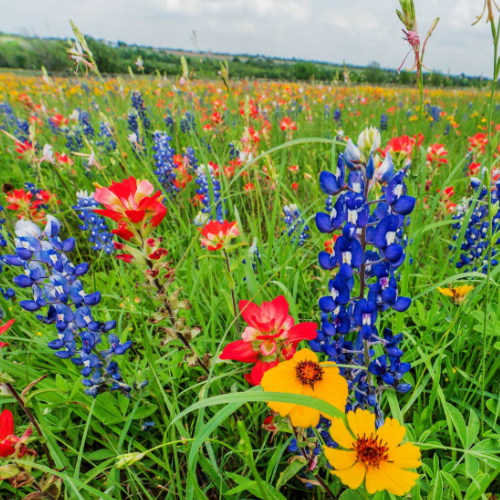 April 13-14, 2018
"For a working team of 20 -it was a perfect get away location for team building, recreation and atmosphere for our folks to come together and engage. Just now wish we had made this a 2 night event. The host was very hospitable and the house and grounds were very picturesque with abundant wildflowers in on the grounds. The great room is where we spent most of our time and it was perfect for group presentations, there was adequate space on the campus for break out sessions and socializing space with the outside fire pit, patio and shuffleboard and pool table inside kept our group very busy. A bit cold for the pool and hot tub, so it was not used this tip."
Michael J.
---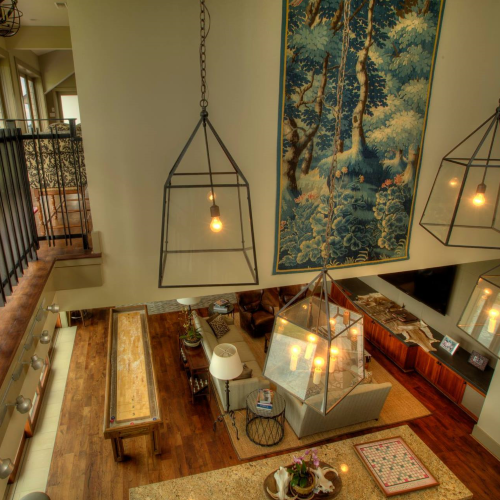 February 17-18, 2018
"Great place for a big group. We loved riding horses, hanging out in the game room, and the amazingly helpful staff. The food was great, as were the views."
Kellan
---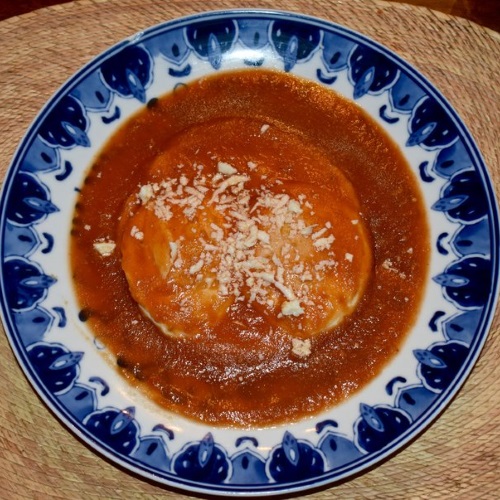 Jan. 7-8, 2018.
"We have had such an amazing time! The food was delicious, the property was gorgeous, and service was wonderful! We will definitely be back !"
Lindsay E.
---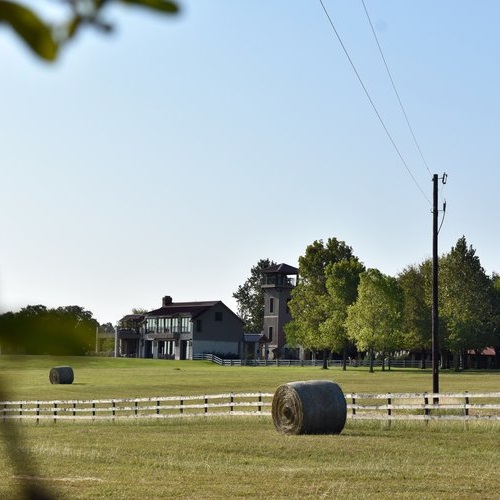 Dec. 16-17, 2017.
"Perma Vista was exactly as described. We will definitely visit again."
Michelle W.
---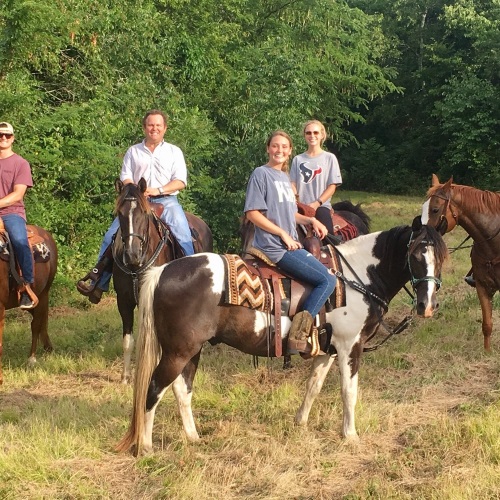 Dec. 14-15, 2017.
"My work team stayed here for a holiday celebration and we cannot rave enough about our time here. The staff took wonderful care of us and were extremely responsive. The planning of this trip could not have been easier thanks to them. Our dinner was prepared by private chefs and was absolutely delicious. It was so good we tried to get the recipes from the chefs! The horseback riding was probably the highlight of our trip. We were all newbies to riding but the instructor was great and the horses friendly and well-behaved. None of us wanted to stop riding! Thank you for such a great trip!"
Elizabeth
---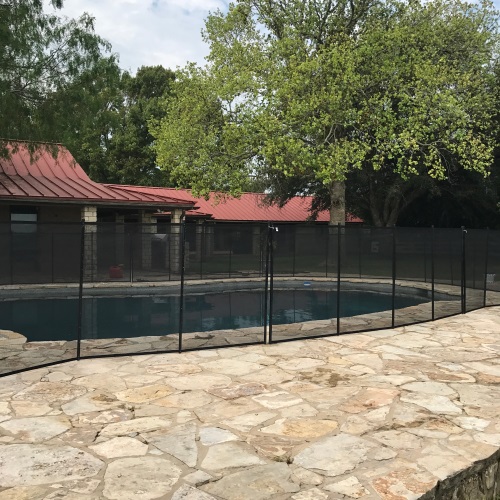 Nov. 17-19, 2017.
"The ranch is an amazing piece of property! We spent a great family time.. the kids rode horses, play outside and enjoyed all the amenities! I recommend it for everyone wanting to have some quality time! It's the perfect place to stay!"
Alina
---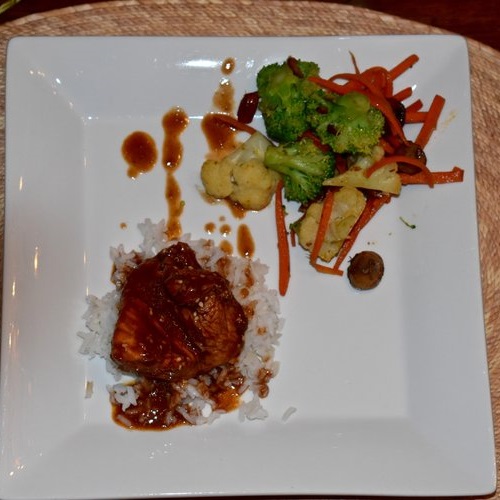 Nov. 3-5, 2017.
"Very nice place. Our whole group of 16 enjoyed the house very much. The chefs were amazing and so professional. We would go back!!!"
DeDe
---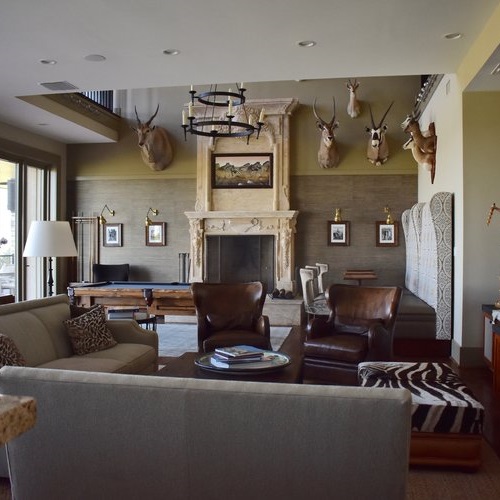 Oct. 20-21, 2017.
"Truly a remarkable property and excellent hosts. We loved horseback riding through open pastures, running along the dirt roads around the ranch, grilling outside, watching college football and playing pool and shuffleboard in the game room, and our trips into town for the Texas Arts and Music Festival. Thanks to the entire staff for a fantastic weekend!"
Keith
---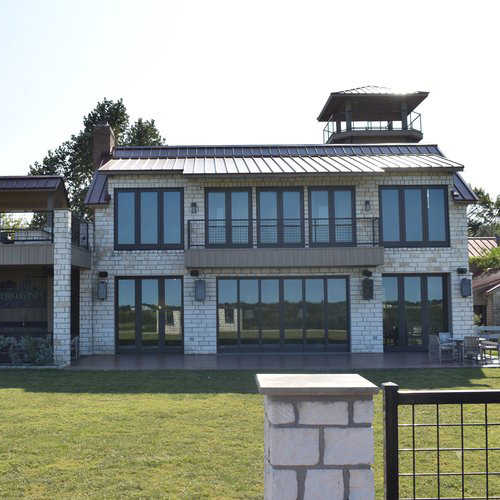 Oct. 11-12, 2017.
"This place is amazing! Loved it and can't wait to go back ! Breathtaking views, beautiful accommodations! Great friendly staff! Cuisine was awesome!"
Cathy H.
---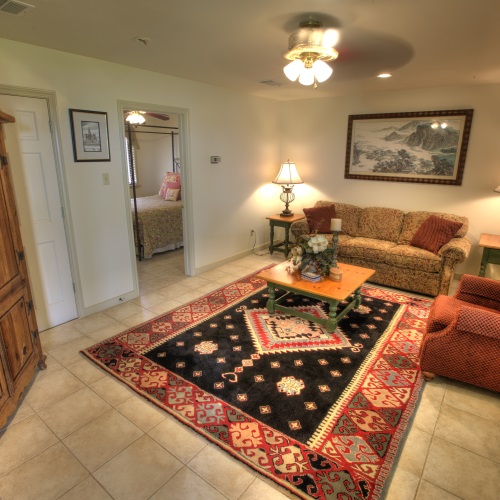 Sept. 30- Oct. 1, 2017.
"PermaVista exceeded expectations! The location, amenities, food, and service was excellent! We will be looking to book it again in the future!"
Robin
---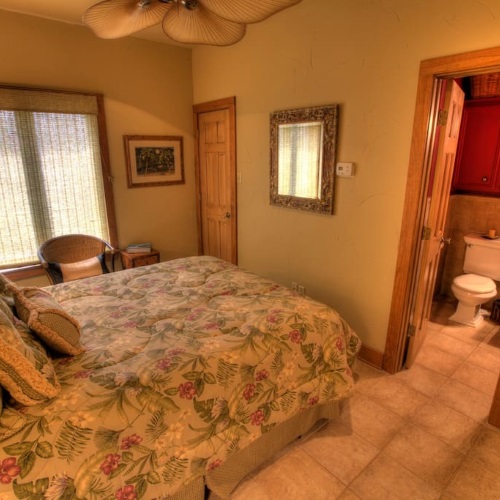 Sept. 14-17, 2017.
"Really professionally setup of staff and accommodations. Beautiful home & property, really well up kept. We had a large gathering of close to 30+ individuals and everything went smoothly. Breakfast was included and it was very delicious as well. Thank you to Robert, Ruth, & Julian for making this a memorable weekend for our retreat. I WOULD HIGHLY RECOMMEND THIS PROPERTY!"
Imran
---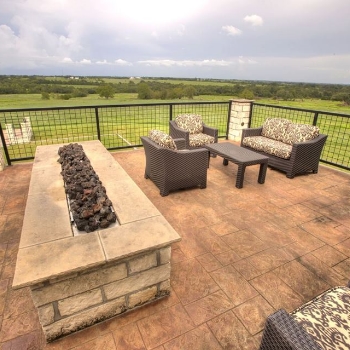 Aug. 19-20, 2017
"This location is simply breathtaking! I celebrated my 40th birthday with my family and friends and I couldn't have been more pleased. Ruth and the staff were amazing, accommodating and worked so hard even after the set times we discussed. Their main focus were ensuring my guests and I were happy. I am forever grateful for this experience!"
Kachelle K.
---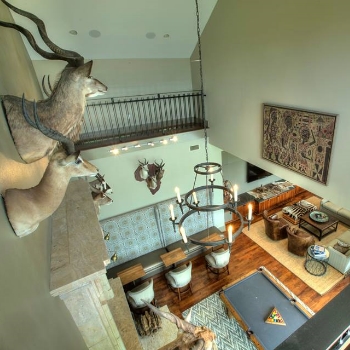 Aug. 18-19, 2017
"We held a leadership event there. It was a great space and plenty of room!"
Mitzi
---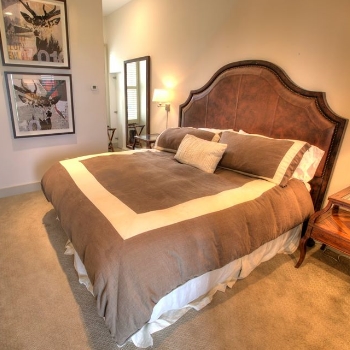 Aug. 11-12, 2017
"We absolutely loved our stay at permavista. The hospitality of the crew was exceptional, as was the food, scenery, and accommodations."
Phillips M.
---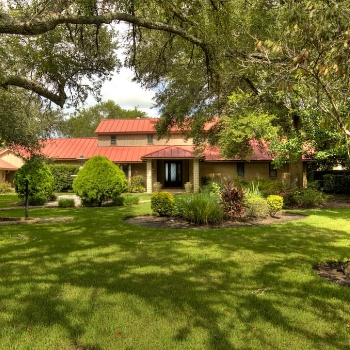 Aug. 5-6, 2017
"Beautiful place! Perfect to share with a big family, sport team or office staff! The food was amazing and the service was perfect!"
Chad T.
---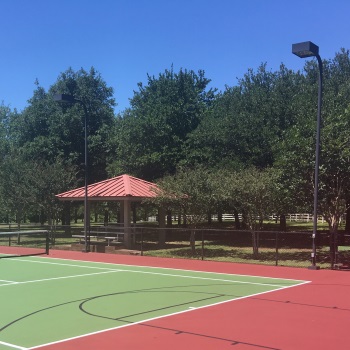 June 23-25, 2017
"Lovely ranch with beautiful views and great facilities
Loved our weekend at the ranch. The accommodations are excellent. All are comfortable and clean. The food was wonderful. The complimentary breakfast was exceptional and the other meals and assistance were fantastic. The cooks and kitchen staff were fabulous. Loved our horse ride too and Shannon at the stable was extremely skillful and helpful. The horses were fantastic and our ride was one of the best I've ever had. The great room with massive TV and pool table and table shuffleboard was a great gathering spot. A great time was had by all."
Scott O.
---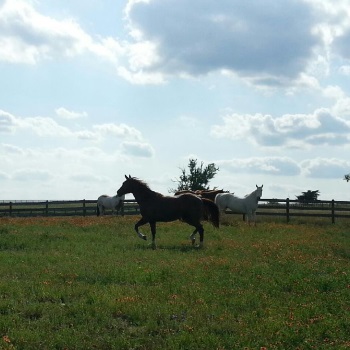 June 10-11, 2017
"LOOK NO FURTHER!!
I am utterly overwhelmed by my experience at this ranch. I had my parents 50th wedding anniversary here just moments ago and every guest in attendance was floored by the location and the grounds. It is STUNNING! This place is beyond phenomenal. And worth taking seriously as a viable option, if not your only option, if you wish to throw an absolutely memorable event. I promise you it will fully honor your vision and go beyond your imagination. The owner of the ranch has truly created a one of a kind establishment that oozes with great energy. Plus it is super immaculate. And of course, the horses add to the regal country flare. If you're looking for a place to host your next event you will be over the moon pleased by the grounds and the sheer utter consideration of the staff and their hospitality. The sales executive Ruth, the horse trainer Shannon, the chef Jullian... along with all the additional staff on the grounds were the added bonus. Their passion and thoughtfulness will reverberate around you that will help you to create a picturesque event. They truly are the heart of what makes this location a one of a kind opportunity that you should by no means miss out on. BTW the photos of this establishment DO NOT give it justice. This place is remarkable!! The ceilings in the game room are super high and regal. The beds are furnished with top of the line matresses. The basketball, tennis court, and watch tower were perfect for kids and adults to play and explore safely. The decor is perfectly reminiscent of something out of a tv show which sets the tone for a luxury country affair. Even if I tried, I couldn't think of anything that would cause you to second guess the appeal of this location. Despite the distance, it is well worth the short trek of an hour and a half. The lodge, its layout, the chef's food, the pristine views, and the horses are all, hands down, by far, the most superior you will find for miles around. Nothing you can think of could even come close! This is undeniably a top shelf find! And in truth, this is a fully honest, sincere review. I am just so floored by the joy that I, my family and our guests received and I owe all that to Ruth, Shannon, Jullian, and of course Mr. Roberts. Thanks for sharing your home with us. We are sincerely grateful for your thoughtfulness. You've made a huge impact on my family's lives over the short stay. This place is... Remarkable, Unbelievable, & Unimaginable. THANK YOU TO EVERYONE THERE!! xo"
Shakira G.
---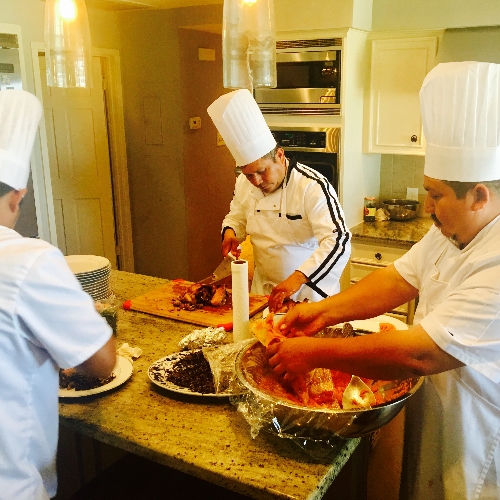 June 6-8, 2017
"Robert and his team were wonderful. I booked this place for my manager and his coworkers as a team building retreat and they loved it. My manager told the he loved it and the place was spectacular. Robert's team was very attentive and paid attention to every detail and request we made. Communication was awesome and they answered every little question we had. Thank you!!"
Karen P.
---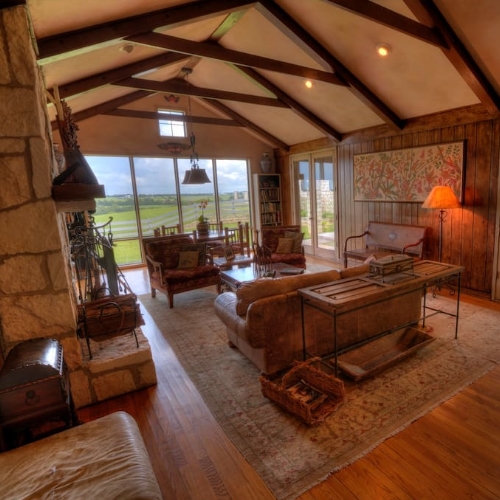 May 28-29, 2017
"Outstanding facility with everything you need to entertain the family. Outstanding customer service and one of a kind staff. I never felt any stress over planning or coordination of the event. I would definitely recommend this to anyone wanting to get away with the family."
Jesus F.
---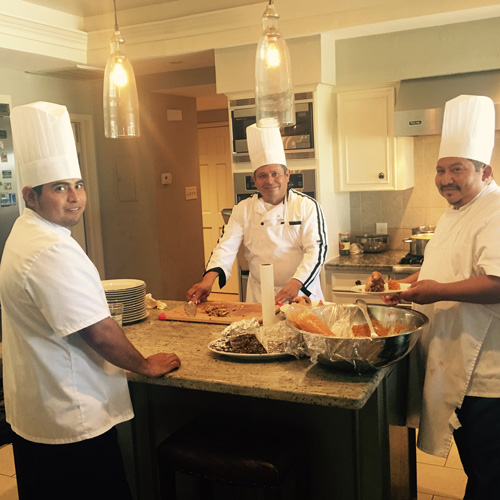 May 12-13, 2017
"Great place and we will definitely be back! We had the chefs take care of all of our meals and it definitely was a good call!"
Luke
---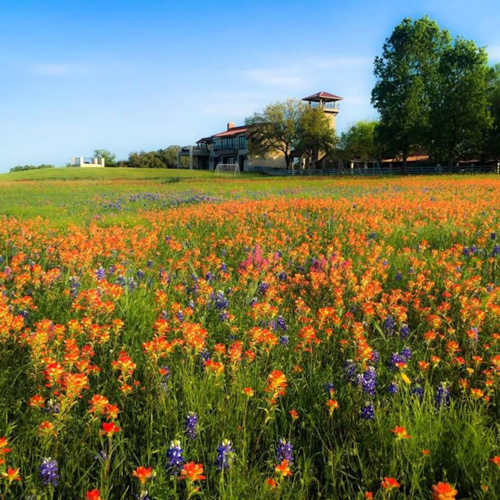 May 6, 2017
"I had the joy of attending a celebration honoring Erie Smith May 6. Your hilltop ranch was charming, with breathing-taking hill country views, and the food was yummy. We had a ball. In advertently I left several items upon departing. Once home I realized I'd left something valuable. Contacting the manager, Ruth, was easy and she acted promptly. My items were mailed immediately and returned in excellent condition. This response was consistent with the prompt, caring, courteous, and personal attention shown each guest at the event. Thank you PermaVista for the memorable event."
R. Walker
---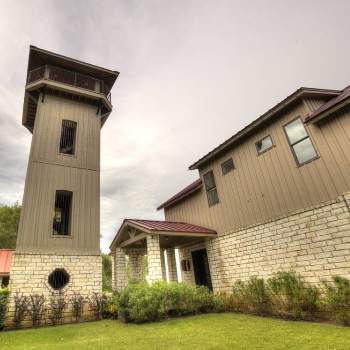 May. 7-9, 2017
"Beautiful ranch with excellent food, stunning views and wonderful hosts. They were incredibly patient with us and our constant back-and-forth as we tried to work out logistics on our end. Would love to stay there again, and would say it was for sure 10 stars out of 5!"
Zayne H.
---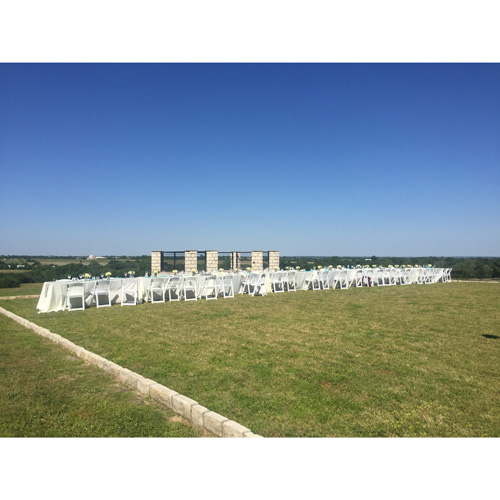 May 6, 2017
"We rented PermaVista to host a Retirement and Birthday Celebration for about 60 guests for one of our Posh & Private Event Design clients. The entire staff was very responsive and quite flexible to our needs in the weeks and days leading up to the event, which, as an event planner is something that is priceless to me. The event was held outside on the croquet court – which was the perfect picturesque backdrop for the celebration. The owner, Robert, even stayed on-site to ensure the event went off without a hitch, and most importantly… the food was AMAZING!"
Brandi C.
---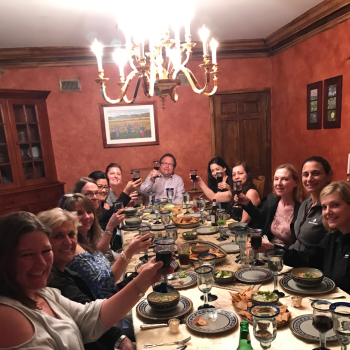 Mar. 24-26, 2017
"Beautiful home and property. Horse trainer Shannon, was incredibly sweet, and certainly experienced in the training and handling of the horses. Loved riding the horses around the property and neighboring properties. Axe was a sweetheart and easy to handle, coming from an inexperienced rider. For being the quiet one, he kept trying to be the leader!
Ranch and kitchen staff were wonderful! They were so accommodating, and super friendly! Breakfast and dinner served was delicious. Overall experience was great! I would definitely recommend this property to family and friends. Just a few observations/recommendations - a shower would have been nice in the bedroom that only had the tub.
Recommended for: Families with Young Children, Sightseeing, Girls Getaway, Families with Teenagers."
Debbie B.
---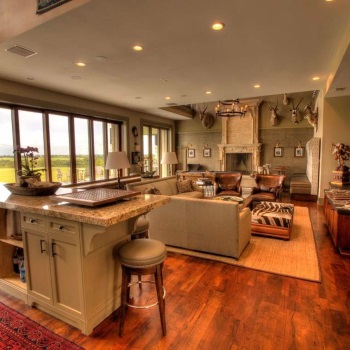 Mar. 22-24, 2017
"Spectacular memorable ladies' trip! This was a great, fun, relaxing place for a ladies shopping excursion and retreat. 13 of us had a blast in the game room til all hours, and then woke to the most delicious breakfast.....bacon being cooked, tables set up out by the pool, pancakes, huevos rancheros, oj, coffee....being waited upon by 4 servers and a great chef. Also, we hired the chef for a delicious mexican- inspired gourmet dinner. Everything we asked Ruth, the concierge, to do for us was done with a smile. The only thing you have to be aware of is the fact that all the ranches out there are on a septic tank system, so water pressure is very low. Some showers were a trickle. But there were lots of clean beds and wonderful spaces to gather in. We will definitely go again! We didn't take advantage of the horseback riding or tennis, but next time for that, too. ) Also, the drive through hill country is beautiful."
Cynthia H.
---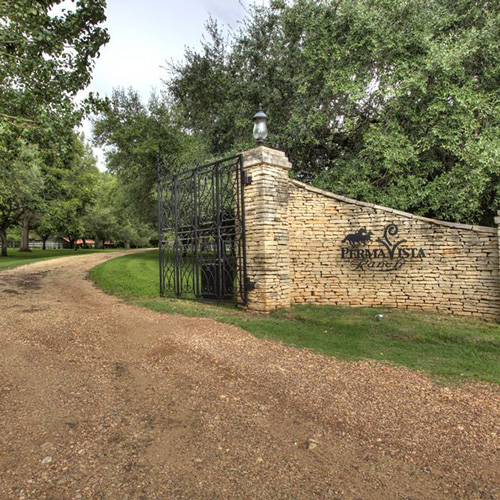 Mar. 11-12, 2017
"We had a big group wanted to have a relaxing getaway during the first weekend of Spring Break. Once we found this ranch in Airbnb, we knew that we have found the one we were looking for. The promptness and professionalism of the host and the owner, with some personal touch made it easy for us to book it for our getaway. Our entire team was delighted with the warm reception we received when we arrived at the ranch. The ranch itself was great and definitely exceeded our expectations. Even though the weather could be better than what we had, but that didn't prevent us to have fun in the swimming pool/spa, in the game room, in the horse-riding, in the basketball court, or just being in the seating areas. They even offered us an extra room in addition to some extra air-mattresses to accommodate all of us, and they didn't charge anything extra for that. The welcoming fruit basket was also a pleasant surprise. The service of the entire crew was simply top-notch, starting with the owner, the host Ruth, the care-taker Julian, and the horse-trainer - all were super nice. Thank you PermaVista Ranch for giving us a memorable weekend. We all are planning to come back here in future."
Saiful I.
---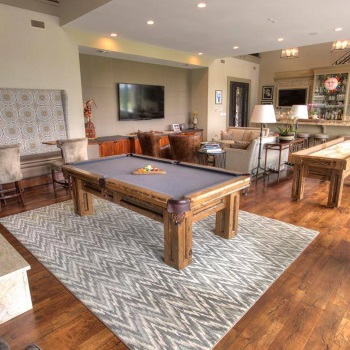 Jan. 15-16, 2017
"The weekend my family and I spent at your ranch was one of the best I can ever remember as a group. When we drove up to the property everyone had the Wow Factor on their face. It was one of those moments we knew we would be back and we had not even walked into the front door. The beds were comfy, and the ranch design just perfect. The $1 million dollar game room looks like a million! The horses, the food, the staff all definitely 5 star! "Piece of Heaven!!! Great, great, great!! Go!!"
Brenda P.
---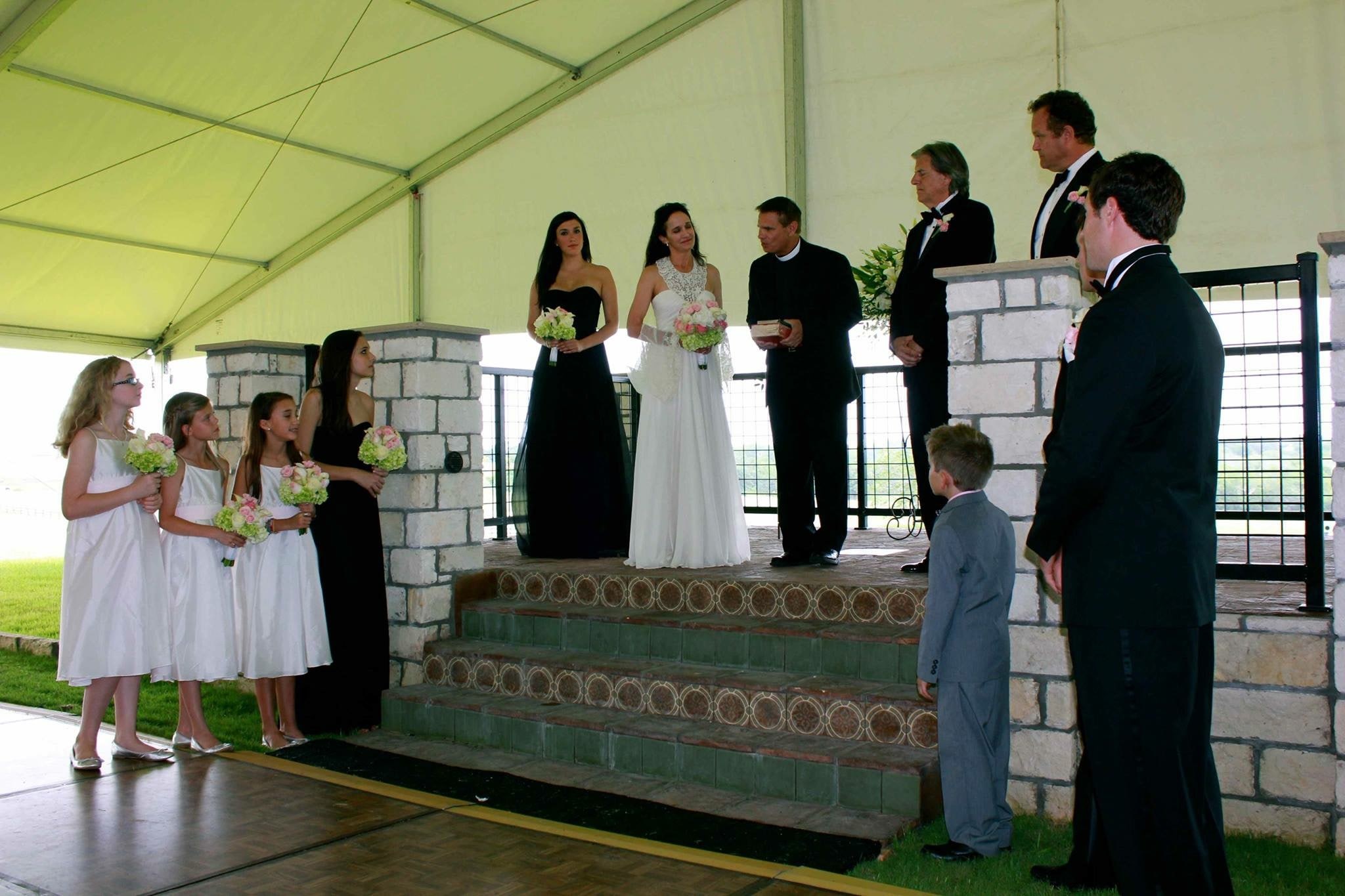 Sept. 9, 2016
"My wife and I were married at the PermaVista Ranch in the spring of 2013 and it couldn't have been a more perfect setting. We hosted around 130 guests who flew in everywhere from California to New York to celebrate with us. They were all greatly impressed by the landscape, views, buildings, amenities (the pool, tennis court, and horse riding program), and especially the excellent food and service provided by the PermaVista staff at our rehearsal dinner. The main house and front courtyard are ideally suited to hold rehearsal dinners, weddings, and receptions and easily accommodated our group.
Before booking the PermaVista Ranch, my wife and I looked all over Houston for alternate wedding venues, but agreed this was the best - truly a unique and special place. I couldn't recommend this more highly – plus it was the best wedding I've ever been to"
Michael Williams
---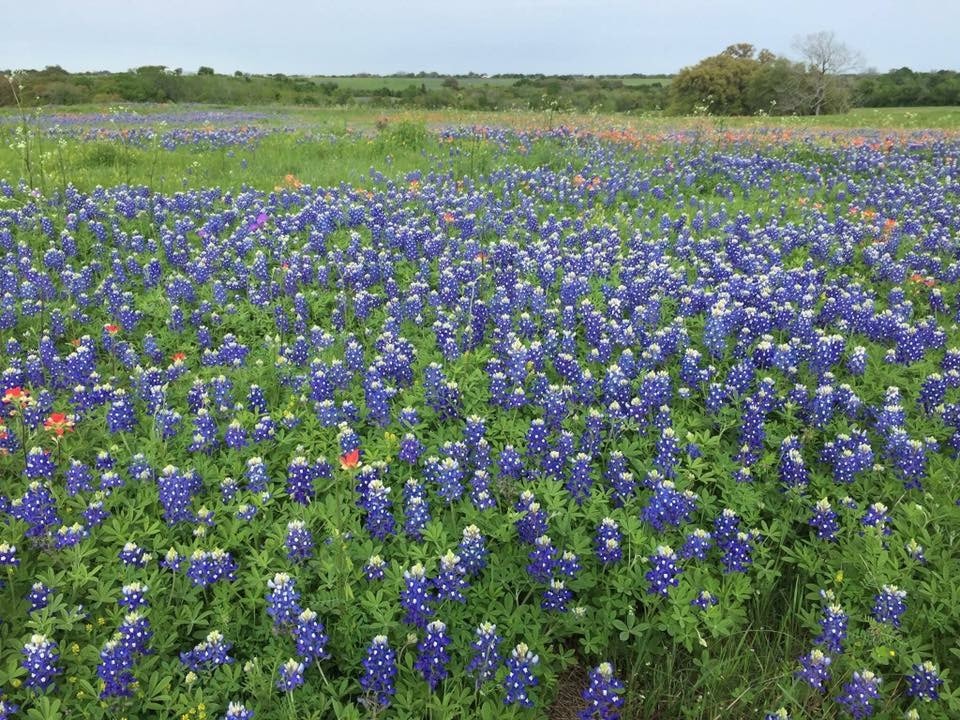 Aug. 16, 2016
"I have been a guest at PermaVista Ranch many times. The landscape is gorgeous; rolling hills of horse pasture, wooded glades, and a sleepy pond near the horse barn. In the spring, the fields boom with the blue-purple Bluebonnets and the yellows and pinks of Indian Paint Brush. The accommodations range from nice and comfortable and homey to spectacular (the newest wing), and they are everywhere attended by beautiful landscaping, from fruit tree-lined gravel roads, to roaming Bougainvillea, to Hibiscus exclamation points, to colorful plantings along the walkways. Sitting by the pool in the late afternoons and evenings and early mornings brings deep tranquility, looking out over the large expanse of fields and sky, with an occasional distant rumble of a passing train. PermaVista Ranch has a tower from which the views are even more commanding. There is a powerful telescope in the living room which provides astonishing views of the heavens at night because there is no light pollution in PermaVista's night sky. The experience is complete with three deliciously interesting meals per day prepared by a chef, always fresh, from scratch, using ingredients from PermaVista's vegetable and pepper garden ~ PermaVista even makes its own hot pepper garnish, called "gunpowder", which is not too hot and which has a complex and interesting flavor from the several different pepper varieties used to make it. PermaVista Ranch is truly a hidden gem to be appreciated by the most discriminating travelers. I whole-heartedly and un-reservedly recommend it. Enjoy!"
John Ts Gibs
---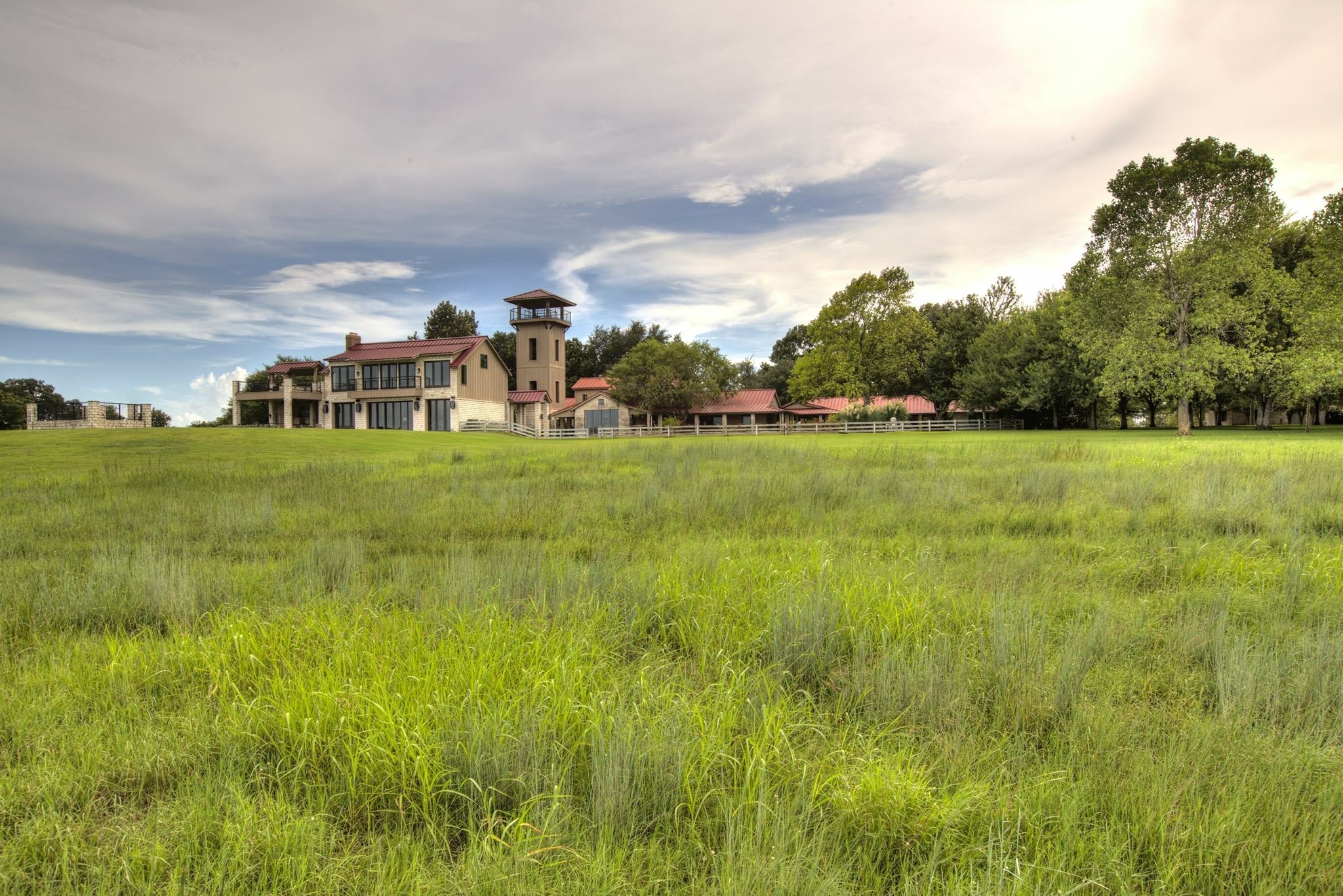 Aug. 15, 2016
"PermaVista was an amazing place to hold my daughter's bat mitzvah celebration. The natural beauty of the Texas Hill Country never disappoints. And the folks who work at the ranch all went the extra mile to ensure that each detail was properly executed, from following recipes, to decorative arrangement of platters, to replenishing the buffet. We had a total of 140 adults and children who all raved about the spacious and beautiful facilities, both indoors and outdoors. While we had to go home when the party was over, we were offered our choice of the many beautiful bedrooms that could have accommodated at least 20 of us. Everything was top notch!"
Shayna Andrews
---